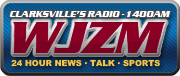 Clarksville, TN – Clarksville Mayor Kim McMillan was interviewed on WJZM 1400am about some of the recent controversies surrounding the recently passed city budget, the charter revision, the new marina, and moving the downtown market.
Appearing on "Clarksville in Review" with host Hank Bonecutter, Mayor McMillan said she was "Proud to have passed a new budget with no new taxes while moving Clarksville forward."
McMillan said she also intended to seek a second term, if her health continues to improve.  Mayor McMillan has MS.
On the budget:
"We're a growing community, and the demands on services continues to grow. I'm proud to have a budget that addresses the needs of our police department, fire department, parks and recreation department and more."
McMillan had to cast the tie-breaking vote on both readings for the budget to pass.
On her critics:
"I've learned that no matter what you do, somebody is going to criticize it.  You can't ever please everybody, and I'm doing what I think is best for our community, and am not going to get caught up in the"personalities" of politics."
Clarksville City Councilman Bill Summers has been the mayor's most outspoken critic on the budget. McMillan and Summers had some disagreements over last years budget, and the mayor removed Summers from some key committee positions and he has been a thorn in her side ever since.
The Clarksville Mayor has always only had to count to six.
On the decision to move the Clarksville Downtown Market:
"The market has outgrown it's current location. The popularity of the market has prompted the city to do something.  We want the Downtown Market to be for the whole community, and not just for the folks downtown."
The downtown merchants said they had no idea about the move and weren't involved in the decision and are not happy about the move. Critics say that the mayor only got involved when it became front page news.
"That's not true, McMillan said. We had several people at Parks and Recreation involved in studying what to do about how the market had grown.  The bottom line is it simply has outgrown it's current location and we want to make it a better event for everybody."
On the discussion about a Clarksville Performing Arts Center:
"The money in our budget has been "set aside" to study the possibility of partnering with the Roxy Theater to build a new center. Clarksville should have a facility just like the Tennessee Performing Arts Center where people come from miles around to downtown Clarksville to see shows and attend events.  We're not saying that we're going to build it, but we're going to meet with the Roxy board and see what they think, then move forward if it's something we can work out. I think it would be great for Clarksville."
Mayor McMillan was asked about the Charter Revision, which passed the State Legislature unanimously:
"It's something this community has needed for a long time, and I hope to get it on next month's city council agenda for a vote. I hope the council does the right thing, and approves the charter, so that we can move on."
Kim McMillan is in her second year as mayor.
"I love being the mayor of Clarksville. I want to move this city forward and make it a better place for all of our citizens. I can't let those who disagree with my ideas to keep me from moving this city forward and doing what's best for all citizens."
The hear the entire interview on WJZM's podcasts .