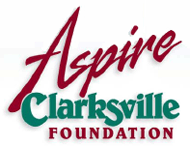 Clarksville, TN – The Aspire Clarksville Foundation is pleased to announce their Board of Directors for the 2012-2013 term.
At the July 26th meeting of the Aspire Steering Committee, it was voted and approved that Jack B. Turner and Lawson Mabry will serve alongside Chairperson Katherine Cannata, Immediate Past-Chair Terry Strange and Economic Development Council Chairman Steve Kemmer on the FY13 Aspire Board of Directors.
The Aspire Steering Committee is made up of 35 member-investors who routinely meet in order to discuss business of the Foundation and trends in economic development. Each spring, the Steering Committee also makes recommendations for budget priorities to be considered by the Board. The Steering Committee rotates its members on an annual basis so that each investor has the opportunity to serve over the five year campaign.
"The Aspire Foundation is welcoming exceptional leadership to the Board this year and I am looking forward to our continued work to improve Clarksville-Montgomery County," said Cannata, Chair of the Foundation Board.
About the Aspire Clarksville Foundation
Aspire Clarksville is a privately-funded economic development and community marketing initiative for Clarksville-Montgomery County, Tennessee. Now in the five-year, Aspire IV Campaign, huge returns can be seen. The goal has stayed constant since the inception of the Aspire Clarksville Foundation in 1996; to continually improve the economy and livability of the Clarksville-Montgomery County community.