Nashville, TN – Big beautiful pound cakes rank high on the list of favorite Southern desserts. Most food historians believe that the name comes from the fact that they were originally made with a pound of butter, a pound of sugar, a pound of eggs and a pound of flour.
But over the years, pound cakes have appeared on Southern tables in almost every flavor you can imagine.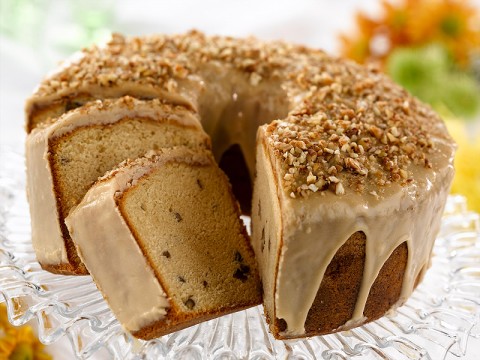 Brown Sugar Pound Cake takes on a definite caramel flavor that is enhanced by an easy-to-make caramel glaze, while the texture remains characteristically moist and dense.
Always the star at any occasion, pound cakes are easy to transport, stay moist for several days and make much appreciated gifts.
Brown Sugar Pound Cake
Cake
Crisco® Original No-Stick Cooking Spray
2 1/4 cups firmly packed light brown sugar
1/2 cup granulated sugar
1 cup butter, softened
1/2 cup Crisco® All-Vegetable Shortening
2 teaspoons vanilla extract
5 large eggs
3 cups Martha White® All-Purpose Flour
1/2 teaspoon baking powder
1/4 teaspoon salt
1 cup milk
1 cup chopped toasted pecans
Glaze
1/4 cup butter
1/2 cup firmly packed light brown sugar
1/4 cup milk
1 teaspoon vanilla extract
2 cups powdered sugar
Directions
Heat oven to 350° F. Spray a 10-inch tube pan with no-stick cooking spray. Combine 2 1/4 cups brown sugar, sugar, 1 cup butter, shortening and 2 teaspoons vanilla in large bowl; beat until light and fluffy. Add eggs one at a time, beating well after each addition.
Combine flour, baking powder and salt in medium bowl; mix well. Add flour mixture to butter mixture alternately with milk, beating well after each addition. Stir in pecans. Spread batter in prepared pan.
Bake 1 1/4 hour or until toothpick inserted in center comes out clean. Cool 10 minutes. Remove from pan. Cool 1 hour or until completely cooled.
Melt 1/4 cup butter in small saucepan over medium-low heat. Add 1/2 cup brown sugar; cook on medium-low 2 minutes, stirring constantly. Add 1/4 cup milk; bring to a boil, stirring constantly.
Remove saucepan from heat. Stir in vanilla. Gradually stir in powdered sugar; blend until smooth. Drizzle over cooled cake.
18 servings
---
Crisco is a registered trademark of The J.M. Smucker Company.