APSU Sports: Austin Peay Men's Basketball

Clarksville, TN – It is early August and Austin Peay State University men's basketball team is back on the court as a team, more than two months earlier than usual.
With the Governors heading to Canada, August 17th, to begin a three-day exhibition set in Toronto at Seneca College, APSU basketball players were back on campus Sunday for physicals before practice began Monday.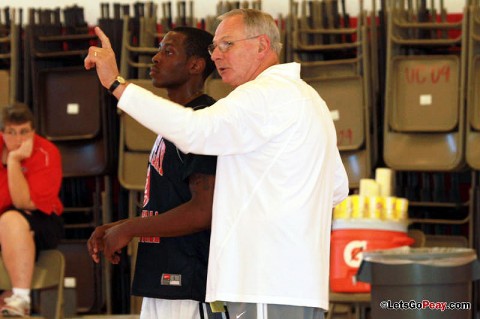 By playing international exhibition competition, the Governors are allowed to practice 10 days before leaving. With Dunn Center floor replacement project at a short standstill because of Friday's Summer Commencement, the Govs are practicing in the Red Barn.
Basketball Travelers, Inc. (BTI), is sponsoring the exhibition trip, with the Governors promise to appear in a BTI-sponsored guarantee event in the future. Other Ohio Valley Conference schools, including Murray State a year ago, previously have been a part of the exhibition series.
Austin Peay will play Seneca College, Saturday, August 18th; followed by games on succeeding days against A-Game Hoops and ABC All-Stars. All three games will be broadcast on the Governors Sports Network, flagship station WVRY 105.1 FM.