APSU Sports: Austin Peay Soccer

Evansville, IN – Despite allowing a goal early in each half at Evansville, Wednesday night, Austin Peay State University's women's soccer team battled to the end against the Purple Aces, ultimately dropping the exhibition opener 2-1.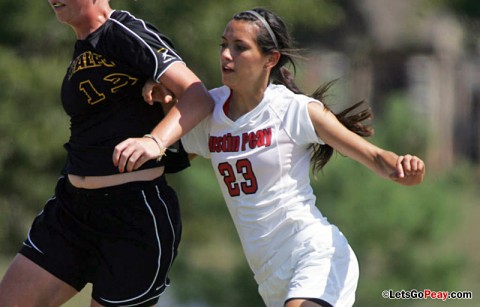 "We recognized tonight there are a number of things we still need to work on in training," said head coach Kelley Guth. "It's good for us to see the areas where we need to improve."
The Purple Aces jumped on the board early thanks to freshman Abby Springer. Sophomore Taylor Brand and senior Olivia Robinson assisted on the play.
Lady Gov junior Morgan Zigelsky tried to answer in the eighth minute but her shot sailed over the crossbar. It was the only shot the Lady Govs attempted in the opening half. Evansville managed eight first-half shots.
"We were not in our element in the first half," Guth said. "Giving up the early goal put us behind the eight ball. After halftime, the momentum of the game changed. We were much more balanced after halftime."
Evansville found the back of the net early in the second half, with Springer netting a second goal. Kasey Cartwright added the assist and the Lady Govs found themselves behind 2-0 with more than 40 minutes to play.
The Lady Govs offense came to life following Evansville's second goal. Freshman Melissa Fletcher put the Lady Govs first shot on net in the 58th minute, one of four shots on goal in the second half.
In the 85th minute, junior Andy Quiceno took a ball from junior Emily Perkins and found the back of the net, cutting the deficit in half. Unfortunately, time was not on the Lady Govs side and the comeback attempt fell short.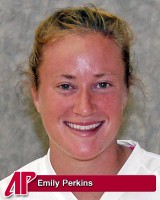 Zigelksy and Perkins led the Lady Govs with two shots apiece. Quiceno, Perkins, Fletcher and senior Stephanie Weider each put shots on goal.
Freshman Nikki Filippone started and played the entire game in net. She made two saves.
"This was a great opportunity for all our freshmen," Guth said. "Fletcher contributed quite a bit for us on offense. Nikki was challenged early and made some very good saves."
The Lady Govs next match will be the regular-season opener at 7:00pm, August 17th, at Arkansas.