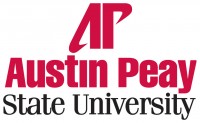 Clarksville, TN – Earlier this week, Austin Peay State University associate professor of history Dr. Minoa Uffelman asked if there was such a word as "four-peat." She knows the word "repeat" well.
That's what the University's Phi Alpha Theta (PAT) history honor society did back in 2010 when they were named the Nation's Best Chapter for the second year in a row. In 2011, she used the word "three-peat" because the PAT club she advises was again singled out as the top chapter in the nation.
Now, Uffelman is wondering if there's a better way to say "four-peat," because this club of energetic and highly motivated APSU students has done it again, winning an astounding fourth Best Chapter of the Year designation.
"I really thought we would win it again, but I'm glad to have it confirmed," she said.
The certificate arrived without warning Tuesday morning in Uffelman's campus mailbox. When she and APSU student Robin Sloan saw the size of the envelope and the return address from the National PAT headquarters, they knew their club had won again.
"We jumped up and down," Uffelman said. "I said, 'here it is from Phi Alpha Theta.' We screamed."
The award recognized another exemplary year for the club, which hosted or attended more than 50 events in the fall and spring semesters, including academic conferences and volunteer opportunities. In May, the group also published the second volume of Theta-Delta, a scholarly journal featuring academic papers by APSU students who had presented at conferences in recent years.
"I think people are certainly more aware of Phi Alpha Theta and that we're more successful," Sloan, PAT secretary, said.
She joined Uffelman and the other PAT officers later that morning to go over the upcoming year. Club President Deanna Carter held a piece of paper covered in writing on both the front and back.
"For our meeting today, we're going over the stuff we're getting ready to do this coming semester," she said. "Just wait until you see the list for spring. We're reviving up to start again."
That means the PAT chapter isn't backing down from another busy year of activities. The goal now is to win yet another best chapter award.
"We're already planning for no. 5," Uffelman said.
For more information on the APSU PAT chapter, contact Uffelman at .