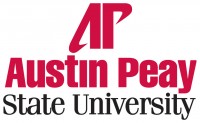 Clarksville, TN – Incorporating service learning into the college curriculum is a growing instructional tool, one that will be explored further at the next Provost Lecture Series at Austin Peay State University.
Three women – Naomi Rendina, adjunct instructor of history at APSU, Alexandra Wills, assistant director of service and civic engagement at APSU, and Lisa Kurtz, representative with Americorps VISTA – will present "Beyond the Classroom: Enriching Community Partnerships to Promote Student Success" at 3:00pm, Thursday, October 11th in the Morgan University Center, Room 303. All sessions of the Provost Lecture Series are free and open to the public.
Service learning is a pedagogical tactic used to enhance student learning by reinforcing academic knowledge by practical application. This method allows students to apply their classroom knowledge to meaningful community service projects.
Service learning projects are to enhance the academic experience and are not in addition to coursework, but rather are supplemental instruction time. The addition of service learning is beneficial for the synthesis of information by students, and reinforces learning outcomes proposed by the faculty.
Faculty benefit from service learning, as there are discipline-specific advantages to projects, faculty reward from the university through tenure and promotion boards, and reinforcement of academic skills taught to students.
Liza Kurtz will present the circulating research in regards to the benefits of service learning to both students and faculty, while Alexandra Wills will discuss how to go about service learning within the university.
Naomi Rendina, who pioneered service learning in 2011 by being the first official instructor to put a service learning course through the new University process, will explore the process of integrating service learning into a course, including standards from the academic department and the Tennessee Board of Regents. She also will include points to remember when planning a service learning course, as well as findings from the Spring 2012 History 2020 course taught with service learning.
Rendina received her bachelor's degree in Middle Eastern studies, minor in religious studies, from California State University, Chico, in 2007. She earned her master's degree in history, specializing in American history, from the American Military University, and graduated in 2010 with honors. She is in her third year as an adjunct instructor of history in the APSU Department of History and Philosophy. She is a member of the Golden Key International Honor Society and Phi Alpha Theta-Theta Delta Chapter.
Wills has been the assistant director for service and civic engagement in the office of student life and engagement at APSU since 2009. Her connection with the service-oriented agencies within the Clarksville community has led to the coordination of service learning courses. She has a master's degree in higher education from the University of North Carolina at Greensboro and has been working with service and volunteerism coordination since 2007.
Kurtz graduated from APSU in 2010 and since has served as an Americorps VISTA in conjunction with Tennessee Campus Compact. She has been involved with planning and executing community service and service-learning projects throughout her education and career.
Other sessions in the Provost Lecture Series also are planned for the academic year. All sessions are from 3:00pm-4:30pm in the Morgan University Center, Room 303 and include the following:
Provost Lecture Series for 2012-13
October 18th
Kathy Heuston
October 25th
Jordy Rocheleau
November 1st
Kevin Tanner
November 8th
Lindsay Szramek
November 15th
Dr. Antonio Thompson
November 29th
Leong Lee
January 10th
Taj Hashmi
January 17th
Foloshade Agusto
January 24th
Mercy Cannon
January 31st
C.M. Gienger
February 7th
Tatsushi Hirono
February 12th
Christopher Burawa
February 14th
Alex King
February 21st
Andriy Kovalskyy
February 28th
Suta Lee
March 7th
Sergei Markov
March 21st
Kristofer Ray
March 28th
Ayman Alzaatreh
April 4th
Stephen Truhon
April 11th
Jason Verber
April 18th
Paul Collins
April 19th
Carol Baskauf
The Provost Lecture Series seeks to foster a spirit of intellectual and scholarly inquiry among faculty, staff and students.
The program will be used as a platform for APSU faculty members who are recent recipients of provost summer grants, who have been awarded faculty development leaves and who have engaged in recent scholarly inquiry during sabbatical leaves.
For more information about the Provost Lecture Series, call Dr. Brian Johnson, assistant vice president of academic affairs at APSU, at 931.221.7992 or email him at johnsonb@apsu.edu.