APSU Sports: Austin Peay Volleyball

Clarksville, TN – Senior outside hitter Nikki Doyle set a school record with 34 kills to lead Austin Peay State University's volleyball team to a come-from-behind five-set victory (16-25, 23-25, 25-23, 26-24, 15-12) against Middle Tennessee, Wednesday, at the Dunn Center.
Austin Peay's (10-12) fortunes followed Doyle's success the entire match. Middle Tennessee won the opening set by a decisive 25-16 margin as Doyle got off to a slow start with four kills and three attack errors.  The Lady Govs rallied in the second set with Doyle posting nine kills in the frame, but the Blue Raiders scored the sets final three points to claim the 25-23 victory.
Doyle came alive in the third set and the Lady Govs responded in kind. Doyle opened the set with four consecutive kills and Austin Peay setter Cami Fields returned to her in critical situations throughout the set to stave off Middle Tennessee charges. Doyle's 10th kill in the set provided the winning point in a 25-23 decision.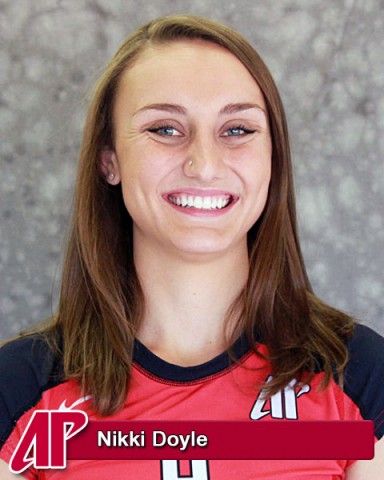 The Lady Govs continued to go through Doyle in the fourth set, with her posting 15 attack attempts in the frame. However, trailing 22-19 Austin Peay turned to their senior outside hitter who scored four kills in a set-ending 6-2 run that secured a 26-24 victory.
Middle Tennessee (5-17) went to their go-to hitter in the fifth set as freshman Chelsea Ross scored three consecutive kills to give the visitors a 3-1 lead. The Blue Raiders maintained that advantage and led 8-6 at the changeover. Austin Peay took over after the break, closing with a 7-4 run that included three kills by Doyle to win the match 15-12.
For the first time this season Austin Peay won a match after losing the first two sets and improved to 3-1 when going the maximum distance. It also gave the Lady Govs a sweep of the home-and-home series against their in-state rival.
"I was beyond impressed with the way we came back tonight," said Lady Govs head coach Taylor Mott. "A lot of teams will pack it in when they lose the first two sets. After the break I thought we got back to playing more our style of volleyball and we truly gutted out a great win for our program."
Doyle's 34-kill performance came on just 66 attempts and she committed only seven errors to finish with an impressive .409 attack percentage. It was only the third 30-kill performance in Austin Peay history and broke the record previously held by Sarah Schramka who recorded 31 kills against Eastern Kentucky during the 2002 season.
"That is the Nikki Doyle I've been waiting to see this season," said Mott. "She was just unstoppable in the third and fourth sets and really pulled us along with her. We did a good job of rebalancing our attack in the fifth set, but Nikki put us in the position to win. However, I have to tip my hat to Cami (Fields) as well. She was equally good running the offense and digging up a lot of tough balls right at the net tonight."
Fields finished with a 44-assist outing but also recorded 21 digs and three blocks. Junior middle blocker Lauren Henderson added 13 kills and seven blocks in the win. Sophomore outside hitter Jada Stotts overcame a slow start to finish with 11 kills and 23 digs.
Ross led Middle Tennessee with 29 kills and posted a .280 attack percentage. Brandi Waller added 20 kills off the bench.
Austin Peay continues its three-match homestand when it hosts Eastern Illinois in a 7:00pm, Friday, Ohio Valley Conference contest at the Dunn Center.
Box Score
Middle Tennessee vs Austin Peay
(Oct 10th, 2012 at Clarksville, TN)
Middle Tennessee
ATTACK
SET
SERVE
SRV
DEF
BLOCK
GEN
##
Player
SP
K
E
TA
PCT
A
SA
SE
RE
DIG
BS
BA
BE
BHE
Points

1

Anderton, Shelby

5

3

0

8

.375

56

0

0

0

8

0

0

0

0

3.0

10

Ross, Chelsea

5

29

6

82

.280

1

1

0

0

10

0

1

1

0

30.5

13

Bange, Katie

5

8

4

23

.174

1

1

0

0

7

0

4

0

0

11.0

20

Shade, Miri

5

0

0

2

.000

1

0

1

5

16

0

0

0

0

0.0

21

Shaughnessy, Rachel

5

3

2

8

.125

0

4

1

0

2

2

3

0

0

10.5

23

Richardson, Tyler

4

5

1

13

.308

0

0

0

0

0

1

4

0

0

8.0

4

Waller, Brandi

5

20

7

44

.295

0

0

0

0

4

1

2

1

0

22.0

17

McCombs, Bri

5

0

0

0

.000

3

0

1

1

28

0

0

0

0

0.0

Totals

5

68

20

180

.267

62

6

3

6

75

4

14

2

0

85.0

TOTAL TEAM BLOCKS: 11.0
TEAM ATTACK BY SET
Set
K
E
TA
Pct
Sideout
Pct

1

13

1

28

.429

12-16

75%

2

16

1

41

.366

12-24

50%

3

13

5

39

.205

14-24

58%

4

16

10

47

.128

15-26

57%

5

10

3

25

.280

9-14

64%

62-104

59%

SET SCORES
1
2
3
4
5
TEAM RECORDS

Middle Tennessee

(2)

25

25

23

24

12

5-17

Austin Peay

(3)

16

23

25

26

15

10-12
Austin Peay
ATTACK
SET
SERVE
SRV
DEF
BLOCK
GEN
##
Player
SP
K
E
TA
PCT
A
SA
SE
RE
DIG
BS
BA
BE
BHE
Points

1

FIELDS, Cami

5

0

0

4

.000

44

1

0

0

21

0

3

0

0

2.5

5

SAIN, Alex

5

8

0

16

.500

0

0

2

0

7

0

2

0

0

9.0

9

DOYLE, Nikki

5

34

7

66

.409

3

0

0

0

7

1

0

0

1

35.0

12

HENDERSON, Lauren

5

13

4

26

.346

1

1

2

0

3

5

2

1

0

20.0

14

STOTTS, Jada

5

11

7

44

.091

1

1

1

4

23

0

0

0

0

12.0

15

PLYBON, Hillary

5

6

5

23

.043

3

3

0

0

2

1

6

0

0

13.0

2

HULL, Calyn

2

0

0

1

.000

0

0

0

0

8

0

0

0

0

0.0

7

MARSELLIS, Aubrey

3

0

1

1

-1.000

12

0

0

0

0

0

3

0

0

1.5

8

LANDON, Liz

5

0

0

2

.000

1

0

0

2

8

0

0

0

0

0.0

10

STROTHER, Samantha

2

0

0

0

.000

1

0

0

0

1

0

0

0

0

0.0

Totals

5

72

24

183

.262

66

6

5

6

80

7

16

1

1

93.0

TOTAL TEAM BLOCKS: 15.0
TEAM ATTACK BY SET
Set
K
E
TA
Pct
Sideout
Pct

1

10

4

28

.214

12-25

47%

2

20

6

53

.264

11-24

45%

3

18

7

45

.244

15-24

62%

4

13

6

35

.200

15-24

62%

5

11

1

22

.455

10-13

76%

63-110

57%

Site: Clarksville, TN (Dunn Center)
Date: Oct 10, 2012 Attend: 237 Time: 2:04
Referees: Denise Penzkofer, Keith Weller
APSU's Nikki Doyle sets school record for
kills in a single match.


| | | | | | | |
| --- | --- | --- | --- | --- | --- | --- |
| | 1 | 2 | 3 | 4 | 5 | Total |
| Tie scores | 3 | 10 | 7 | 11 | 4 | 35 |
| Lead changes | 2 | 6 | 2 | 5 | 2 | 17 |