APSU Sports: Austin Peay Volleyball

Edwardsville, IL – Austin Peay State University's volleyball team posted its fifth consecutive win in dramatic fashion, coming from behind to win in five sets (18-25, 23-25, 25-22, 25-13, 15-7) against SIU Edwardsvillle, Friday night in Ohio Valley Conference action at the Vadalabene Center.

Austin Peay (13-12, 6-3 OVC) lost the opening two sets as it could not find any offensive flow, posting a .205 attack percentage in the opening frames. The Lady Govs defense was unable to slow SIU Edwardsville's offense which rattled off 30 kills at a .347 attack percentage.

"We did not execute in the first two sets and our passing was poor," said Lady Govs head coach Taylor Mott. "We have had those problems throughout the year. It was a matter of finding our rhythm."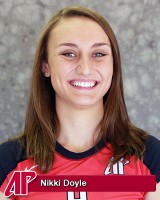 SIU Edwardsville (7-13, 3-6 OVC) was on its way to a three-set victory, leading 17-14 in the third set. However, Austin Peay closed the period with an 11-5 run to extend the match with a 25-22 win. Four different Lady Govs posted a kill in the set-ending run, including three from senior Nikki Doyle.
Both teams carried their respective momentum into the fourth set which turned into a rout. The Lady Govs scored the set's first eight points and led 20-5 after a kill by sophomore Jada Stotts. The Cougars finally gathered themselves but a 8-5 run was too little too late as Austin Peay posted the 25-13 victory.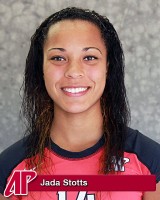 Austin Peay closed the match with another wire-to-wire set victory. Doyle scored the set's first three points on kills. SIU Edwardsville again helped Austin Peay with back-to-back attack errors allowing the lead to grow to 7-2. A later 4-0 APSU run was the final nail in the Cougars coffin as Austin Peay won the final set, 15-7.

"We found a way to win tonight," said Mott. "It speaks a lot of any team that can lose the first two sets on the road and come back to win. There is plenty of volleyball to play this season but I believe this team is starting to figure out what it takes to win."

Doyle recovered from a slow start, which saw her record only six kills in the first two sets, to lead all hitters with 20 kills while posting a .222 attack percentage. Stotts was consistent most of the night and finished with 19 kills and a .245 attack percentage.

Emma Anderson led SIU Edwardsville with 15 kills and a .364 attack percentage. Kelsey Augustine added 13 kills and a .257 attack percentage.

Austin Peay continues its four-game road trip with a 2:00pm, Saturday, OVC contest at Eastern Illinois.
Box Score
Austin Peay vs SIU Edwardsville
(October 19th, 2012 at Edwardsville, IL)
Austin Peay
ATTACK
SET
SERVE
SRV
DEF
BLOCK
GEN
##
Player
SP
K
E
TA
PCT
A
SA
SE
RE
DIG
BS
BA
BE
BHE
Points

1

FIELDS, Cami

5

0

0

1

.000

45

0

2

0

17

0

0

0

1

0.0

5

SAIN, Alex

5

6

2

19

.211

0

0

0

0

8

0

1

0

0

6.5

9

DOYLE, Nikki

5

20

10

45

.222

0

1

0

0

17

0

0

0

0

21.0

12

HENDERSON, Lauren

3

4

5

17

-.059

1

0

3

0

2

0

0

2

0

4.0

14

STOTTS, Jada

5

19

7

49

.245

0

1

2

1

9

0

3

0

0

21.5

15

PLYBON, Hillary

4

6

3

15

.200

1

1

1

0

5

0

2

0

0

8.0

2

HULL, Calyn

1

0

0

0

.000

0

0

0

0

2

0

0

0

0

0.0

3

ADAMS, April

5

1

0

2

.500

1

0

0

0

12

0

0

0

0

1.0

7

MARSELLIS, Aubrey

5

1

0

1

1.000

15

0

0

0

0

0

0

0

0

1.0

8

LANDON, Liz

5

7

3

15

.267

1

0

0

1

13

0

2

0

0

8.0

Totals

5

64

30

164

.207

64

3

8

2

85

0

8

2

1

71.0

TOTAL TEAM BLOCKS: 4.0
TEAM ATTACK BY SET
Set
K
E
TA
Pct
Sideout
Pct

1

12

6

39

.154

14-25

56%

2

16

6

39

.256

15-24

62%

3

15

9

44

.136

17-23

73%

4

10

5

22

.227

7-13

53%

5

11

4

20

.350

6-8

75%

59-93

63%

SET SCORES
1
2
3
4
5
TEAM RECORDS

Austin Peay

(3)

18

23

25

25

15

13-12, 6-3 OVC

SIU Edwardsville

(2)

25

25

22

13

7

7-13, 3-6 OVC
SIU Edwardsville
ATTACK
SET
SERVE
SRV
DEF
BLOCK
GEN
##
Player
SP
K
E
TA
PCT
A
SA
SE
RE
DIG
BS
BA
BE
BHE
Points

3

ANDERSON, Emma

5

15

3

33

.364

0

0

2

0

3

0

1

0

0

15.5

5

SMITH, Brooke

5

0

0

4

.000

0

0

4

1

6

0

0

1

0

0.0

6

AUGUSTINE, Kelsey

5

13

4

35

.257

0

0

1

0

5

0

7

2

0

16.5

10

MINTON, Sammi

5

1

1

4

.000

38

0

0

0

6

0

4

1

1

3.0

15

TORRE, Kristen

5

8

6

26

.077

0

0

0

0

1

1

7

1

0

12.5

24

LINDSEY, Leslie

5

5

4

21

.048

0

0

0

0

0

0

7

0

0

8.5

2

HARRIS, Cori

5

8

4

35

.114

1

0

2

0

5

0

1

0

0

8.5

7

NORRIS, Haley

5

0

0

0

.000

1

1

0

0

2

0

0

0

0

1.0

8

COLCLASURE, Chelsea

5

0

0

1

.000

1

1

1

1

33

0

0

0

0

1.0

12

JOHNSON, Kelsey

1

0

0

0

.000

0

0

1

0

0

0

0

0

0

0.0

18

O'REILLY, Kaitlyn

2

0

0

0

.000

5

0

0

0

0

0

1

0

1

0.5

20

TREVINO, Hilary

5

0

4

7

-.571

0

0

0

1

4

0

0

0

0

0.0

Totals

5

50

26

166

.145

46

2

11

3

65

1

28

5

2

67.0

TOTAL TEAM BLOCKS: 15.0
TEAM ATTACK BY SET
Set
K
E
TA
Pct
Sideout
Pct

1

14

2

33

.364

14-18

77%

2

16

3

39

.333

16-24

66%

3

11

6

46

.109

16-24

66%

4

7

11

28

-.143

7-25

28%

5

2

4

20

-.100

5-14

35%

58-105

55%

Site: Edwardsville, Ill. (Vadalabene Center)
Date: Oct 19, 2012 Attend: 110 Time: 1:56
Referees: Art Bowden, Ed Phillips


| | | | | | | |
| --- | --- | --- | --- | --- | --- | --- |
| | 1 | 2 | 3 | 4 | 5 | Total |
| Tie scores | 6 | 8 | 8 | 0 | 0 | 22 |
| Lead changes | 1 | 4 | 2 | 0 | 0 | 7 |
Sections
Sports
Topics
APSU, APSU Athletics, APSU Sports, APSU Volleyball, APSU Women's Volleyball, Austin Peay State University, Cougars, Eastern Illinois, Edwardsville IL, Emma Anderson, Jada Stotts, Kelsey Augustine, Lady Govs, Nikki doyle, Ohio Valley Conference, OVC, SIU Edwardsville, Taylor Mott, Vadalabene Center