Written by Spc. Brian Smith-Dutton
3rd Brigade Combat Team, 101st Airborne Division (AA) Public Affairs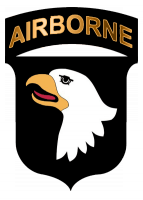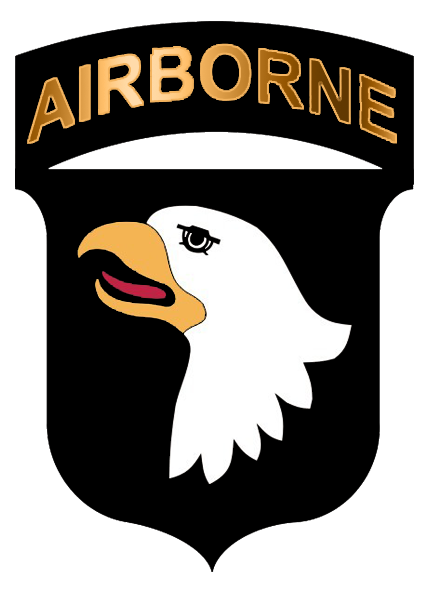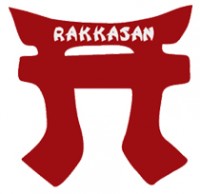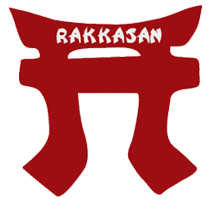 Khowst Province, Afghanistan – As the sun began to set on the snow-capped mountains of the Afghanistan–Pakistan border, soldiers huddled together to discuss their upcoming mission.
While an infantry platoon leader lays out the mission's details, a young infantryman begins to check his weapon. Through a gritty smile he says, "This is the best job in the Army."
Every soldier has their own reason for enlisting into the U.S. Army.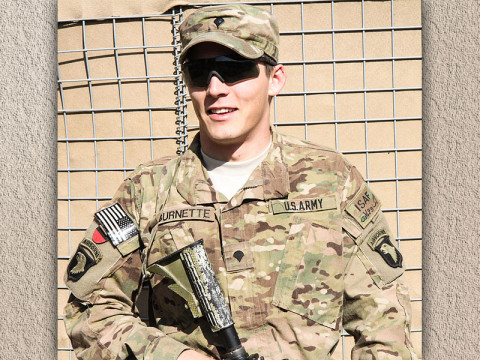 Spc. Michael T. Burnette decided to serve his country for many reasons and very few for himself.
In November 2010, Burnette selflessly decided to leave behind college and do something that would better the quality of life for his wife and future family.
Following his grandfather's footsteps and many other family members, he left his home during a time of war.
"I can't imagine doing anything else," said Burnette. "I want to do 20 years in the Army as an infantryman."
Brunette is now deployed to Afghanistan as a weapons team leader assigned to 2nd Platoon, Company A, 3rd Battalion, 187th Infantry Regiment, 3rd Brigade Combat Team "Rakkasans," 101st Airborne Division (Air Assault).
Although the young soldier is doing what he loves, his career didn't begin as he would've scripted it.
Burnette was off to a rough start when he first learned of some horrifying news shortly after arriving at Fort Campbell, KY.
"They found a tumor in my leg the size of a soft ball," said Burnette.
Being forced into an unwanted situation, he refused to lose sight of his goal of being a soldier and infantryman.
He would not allow his brief career to end this way.
"I had to have surgery on my leg," said Burnette. "Through it all, I made up my mind I was going to deploy with these guys, however."
After his surgery, Burnette was forced to face the hard truth. If he was to deploy with the Rakkasans, seven months of intense rehabilitation would be needed.
Needless to say, he was not without determination.
"It was painful," said Burnette. "But I made up my mind and I was going to deploy with my guys and I wasn't going to be told no."
Never losing sight of his goal, Burnette never let the pain keep him from leaving with his comrades.
After months of hard work and dedication to his unit and his fellow soldiers, Burnette was cleared to deploy with the Rakkasans to Afghanistan in support of Operation Enduring Freedom in September 2012.
While in the midst of all the struggles, Burnette never forgot why he enlisted during his initial struggles.
"During my rehabilitation I reminded myself: 'you're doing this to better your future family,'" said Burnette.
At that time, Burnette and his wife were without children. However, when he returns from his current deployment, he will meet his daughter for the first time.
"I cannot wait to meet her," said Burnette. "It is going to be amazing to hold my wife and daughter for the first time."
Even though he faces the second half of his deployment away from his now larger family, he plans on staying the course he set out for himself.
"I still plan on retiring from the Army," said Burnette.
Even though he has his long-term goals set, he hasn't forgotten about doing what he can in the short-term.
Already in his brief career, Burnette has earned his expert infantryman's badge. An award that is highly coveted within his career field.
Currently, while deployed, he is preparing to go before the promotion board soon after he returns home.
"I'll be eligible for promotion in March," said Burnette. "I'm hoping I go shortly after we get back."
Along with obtaining a promotion, Burnette has several other goals in mind, too.
"I would like to go to Ranger school," said Burnette. "I'm also considering the Green to Gold program to become an officer. Though, only if I can stay as an infantryman."
Mid-way through his deployment, often the time when many begin to doubt their decisions, Burnette doesn't waiver.
Standing tall with a smile, Burnette says, "Like I said before, this is the best job in the Army. I love it."