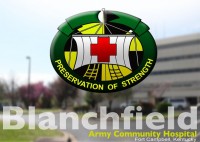 Fort Campbell, KY –  After further consideration and awaiting the anticipated passing of the national budget, Blanchfield Army Community Hospital's command is continuing to provide self care over-the-counter medications to patients who utilize BACH pharmacies.
"We realize our patients are eager to find out more about how passing the national budget will affect military families," said Col. Paul R. Cordts.
"We can assure you that our Army leadership is working to effectively prioritize resources while continuing to carry out core missions if we encounter reduced funding levels. Even if reduced funding occurs, we will continue our focus on health promotion and wellness, initiatives to improve access to care and sustaining enrollment levels," stated Col. Paul R. Cordts.
The Main Pharmacy within the hospital will continue with their previous closing hours at 6:00pm until further notice. Both the Town Center Pharmacy and the hospital's Main Pharmacy are open Monday through Wednesday and Friday, 8:00am to 6:00pm, as well as Thursday, 9:00am to 6:00pm. The Town Center Pharmacy is also open Saturday, 8:00am to 4:00pm.