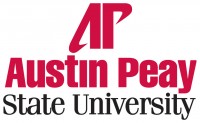 Clarksville, TN – Several Austin Peay State University students will display their research at the annual Graduate Student Research and Creative Activity Extravaganza, with one of those students to be chosen to represent APSU next month in Nashville, TN.
The public is invited to view graduate work from 9:00am-noon, Tuesday, March 5th in the Morgan University Center, rooms 303 and 305.
Graduate Extravaganza promotes and showcases the scholarship and creativity seen in the next level of postsecondary education.
APSU graduate students were invited to apply to enter their work in one of three divisions:
Creative Arts and Literature Expression (e.g., musical compositions, musical performances, literary works, audio and video presentations, website designs).
Completed Data-based Research (not necessarily yet defended, a completed research project with an abstract, introduction, method, results, discussion and references).
Non-empirical Research (no collection of data).
First place will be awarded to one entry in each division. All participants will receive a certificate of recognition, and a monetary award will be presented to each of the three winners.
In addition, in observance of the annual Graduate Education Week in Tennessee, April 1st-7th, the winner of the Completed Data-based Research division will showcase his or her work during this week at the Legislative Plaza in Nashville. That event is sponsored by the Tennessee Conference of Graduate Schools.
The Graduate Extravaganza is sponsored by the APSU Office of Academic Affairs and the College of Graduate Studies.
For more information about the Graduate Extravaganza at APSU, call the College of Graduate Studies, 931.221.7414 or email GradStudies@apsu.edu.
To learn more about graduate education at APSU, visit http://apsu.edu/cogs.