Competition to be held May 18th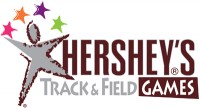 Clarksville, TN – Young athletes can showcase their skills in track, long jump and softball throw in the 2013 Hershey Track & Field competition. This program is open to boys and girls ages 9 to 14 in the Clarksville-Montgomery County area.
Hershey Track & Field practices begin April 18th and will meet every Thursday from 4:30pm to 5:30pm at the Burt-Cobb Community Center, located at 1101 Franklin Street.
Practices will be held through May 16th.
The local competition will be held at 9:00am, May 18th at the Rossview High School Track. Athletes placing first in the local competition advance to the district competition and compete for a place in the statewide competition.
Practice attendance is not mandatory to compete in the local competition on May 18th.
Young athletes can sign up by picking up an application at the Parks and Recreation office or any of our three community centers.
For more details on Hershey Track & Field, please contact the Clarksville Parks and Recreation at 931.645.7476 or visit www.cityofclarksville.com.