APSU Sports: Austin Peay Women's Golf

Sevierville, TN – Hoping to complete an entire tournament for the first time this spring, Austin Peay State University women's golf team heads to east Tennessee when it plays in the Bobby Nichols Intercollegiate, Monday and Tuesday, at the Sevier Golf Club.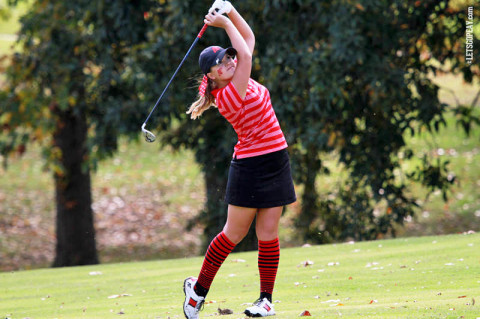 The Lady Govs will play the par-71, 5,802-yard Highlands Course, with 18 holes each day. In addition to the Lady Govs and host Tennessee Tech, four other Ohio Valley Conference schools-Murray State, Eastern Kentucky, Belmont and Tennessee State-will be competing along with Evansville, Lee, Newberry, Northern Iowa, Northern Kentucky, Presbyterian and Southern Illinois.
Freshman Jessica Cathey again will lead the Lady Govs, with seniors Holly Batey and Tabitha Beard, junior Rachel Deaton and sophomore Meghan Mueller rounding out the lineup. Senior Lauren Bond and junior Tala Mumford will play as individuals.
The Lady Govs have played two tournaments this spring with both being cut to 18 holes by inclement weather. Last week, APSU finished 11th at the Lady Eagle Invitational, played in Hattiesburg, Miss. The tourney's opening round was washed out by heavy rains.
"We are hoping the weather will be decent and we will be able to finish both tournament rounds," APSU coach Sara Robson said. "We have not had the best weather in tournaments this spring so we would love to finish an entire tournament.
"After struggling last week, we need to stop putting pressure on ourselves to perform and just go out and play the golf we are capable of playing."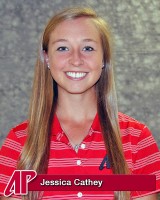 Cathey was APSU's only golfer to break 80 in Mississippi, shooting a 6-over 78, tying her for 12th place, just one shot out of a Top 10 finish.
"I am proud of Jessica for staying steady, and even when she is struggling, she is able to get the ball in the hole and shoot sub-80 rounds," Robson said. "I thought Meghan (82) and Holly (81) played well last week. If they would have had a few putts to drop they would have scored super well."
Robson hopes some of her veteran players can reassert themselves this week and provide the team with some consistent player.
"We need our upperclassmen to step up and believe in themselves," she said. "The entire team needs to realize that not many shots are going to be struck perfectly, but getting the ball in the hole is what's important. I believe in this team, they have a tremendous amount of talent and ability. They just need to relax and play golf and enjoy it. That approach should take some of the pressure off them and will help with our scores.