Montgomery County, TN – Montgomery County Animal Control received a wonderful donation from Kenwood Elementary School on Friday, March 22nd.
The school's Beta Club led the effort, called Pennies for Pets, a three week long service project to help raise money, awareness about animals and collect supplies all benefitting Montgomery County Animal Control.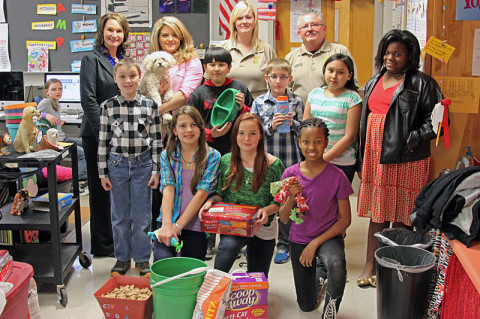 The grade levels competed to see who could raise the most money and 2nd grade won and will enjoy a pizza party following spring break provided by the PTO.
During the three week long project, teachers also used a reading incentive to increase enthusiasm among the students. This incentive, called Give a Dog a Bone, had students reading books to receive AR points and when a certain number of AR points were achieved, they got to give a dog a bone (or put a dog treat in a bowl).
"The students really took this project to heart. We collected so many supplies and over $1,100 in pennies and I was overwhelmed with the reading efforts to fill the bucket with dog treats," said Beta sponsor, Christina Prescott. She continued, "We will definitely do this again next year!"
To culminate the end of the project, students were treated to a Pet Parade by their teachers. Students lined the hallways to watch their teachers walk by with their dogs, cats, iguanas and sugar gliders. Tim Clifton, director of Montgomery County Animal Control was on hand for the parade and to announce the winner of the penny wars.
"I really didn't know what to expect, but the students did such an incredible job and we are truly thankful for their donations," Clifton said. "They collected, shampoo, treats, dog and cat food and not to mention the incredible amount of pennies – we are thrilled they chose Animal Control as their recipient and will certainly put all of it to good use for the animals," Clifton continued.
The Beta Club students will take a field trip to Animal Control in the coming days to see how their donations have made a difference.