Dickson, TN – Austin Peay State University men's golf team recorded eight birdies and one eagle on the back nine, Friday afternoon, and, as a result, will take a nine-stroke lead into the final round of the Ohio Valley Conference Men's Golf Championship, being played at GreyStone Golf Club.

The tourney's final round will be played Saturday, with the Govs tee time, weather permitting, set for 10:30am. With rains expected Saturday, the tourney's initial tee time must begin by 10:20am, Saturday or the results will stand as they are.

Austin Peay matched its first-round 4-under 284 to sit at 568. Defending champ Jacksonville State moved into second with a 577 after shooting a 1-over 288. Tennessee Tech shot a 286 to move into fourth at 581 while Belmont, which ended Day 1 in second, slipped to fourth after shooting 294 for a 582 total.

When Austin Peay approached the turn, Friday, Jacksonville State had all but erased a five-shot advantage, reminiscent of 2012 when APSU watched JSU soar from behind building an eight-shot first-round lead. But the Governors failed to let cold, windy and sometimes wet conditions hamper their back nine play. APSU played the back nine at 1-under while JSU was 5-over.

"The guys keep grinding, keep fighting," APSU coach Kirk Kayden said. "We had some clutch performances on the back nine. We made a bunch of birdies. We had some nice up and downs. They just kept grinding. It is nice to have a nine-shot lead going into the final round.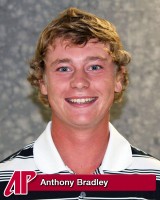 "I don't know what it is about the weather—the worst the conditions, the best we play. They just get in the focus, of getting in the zone of playing good golf when the weather is bad. We have done that a number of times—Memphis, Arkansas State…they perform well when the clouds come up."
Junior Anthony Bradley and Chris Baker were the Governors who were strong on the front nine, Bradley being 2-under while Baker was 1-under. However, it was senior Dustin Korte and junior Marco Iten who came on strong over the final few holes. Korte had two bogeys early in the round but then rolled off birdies on eight and nine to get back to even par.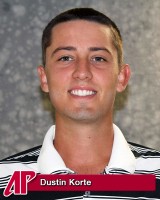 Then Korte ripped off three straight birdies on the back nine. Meanwhile, Iten, who lipped out three putts, scrambled to get even par with an eagle on No. 17. That duo helped the Govs extend the lead.
Individually, on the day Bradley shot a 3-under 69 to sit at 141 while Korte had a 1-under 71 to also be at 141, tying them for third.
The scrambling Iten and the freshman Baker are tied for 10th at 143 after both enjoyed even-par rounds.
The Governors are determined not to let last year's missteps occur a second straight year.
"The guys showed a lot of energy, a lot of fire out there," Kayden said. "They have used last year's tournament for motivation. They have had that chip on their shoulder all year long after what happened last year, losing by one stroke. But they have had that outlook of playing what is front of them, that round, that hole, that shot."
Box Score – Day 2
2013 Ohio Valley Conference Men's Championship
Greystone Golf Club
Dickson, TN
Dates:
April 25th – April 27th
| | | | | | | |
| --- | --- | --- | --- | --- | --- | --- |
| 1 | 2 | | Team | R1 | R2 | Total |
| 1 | 1 | | Austin Peay State | 284 | 284 | 568 |
| 3 | 2 | | Jacksonville State | 289 | 288 | 577 |
| T6 | 3 | | Tennessee Tech | 295 | 286 | 581 |
| 2 | 4 | | Belmont | 288 | 294 | 582 |
| 5 | 5 | | Murray State | 294 | 291 | 584 |
| T6 | 6 | | Eastern Kentucky | 295 | 291 | 586 |
| 4 | 7 | | Morehead State | 292 | 295 | 587 |
| 8 | 8 | | Tennessee State | 297 | 291 | 588 |
| 9 | 9 | | SIU Edwardsville | 302 | 290 | 592 |
| 11 | 10 | | Tennessee Martin | 305 | 292 | 597 |
| 10 | 11 | | Eastern Illinois | 304 | 305 | 609 |
| | | | | | | |
| | | | | | |
| --- | --- | --- | --- | --- | --- |
| | School – Players | Round 1 | Round 2 | | Totals |
| 1 | Austin Peay State University | 284 | 284 | | 568 |
| T 3 | Anthony Bradley | 72 | 69 | | 141 |
| T 3 | Dustin Korte | 70 | 71 | | 141 |
| T 10 | Chris Baker | 71 | 72 | | 143 |
| T 10 | Marco Iten | 71 | 72 | | 143 |
| T 36 | Tucker Wallace | 77 | 74 | | 151 |
| | | | | | |
Sections
Sports
Topics
Anthony Bradley, APSU, APSU Athletics, APSU Golf, APSU Sports, Arkansas State, Austin Peay, Austin Peay State University, Belmont, Chris Baker, Dickson Tn, Dustin Korte, Governors, Govs, GreyStone Golf Club, Jacksonville State, JSU, Kirk Kayden, Marco Iten, Memphis, Ohio Valley Conference Men's Golf Championship, Tennessee Tech