Nashville Blows Early Six-Run Lead In 9-8 Loss At Oklahoma City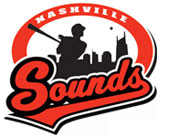 Oklahoma City, OK – The Sounds squandered an early six-run lead as Oklahoma City RedHawks plated eight unanswered runs en route to a 9-8 victory over the Sounds on Monday evening at Chickasaw Bricktown Ballpark in the opener of a four-game series.
The game featured 17 runs and 27 hits, including 13 extra-base knocks, in the contest. The teams had combined for only 13 total runs in their three-game series in Nashville in early April.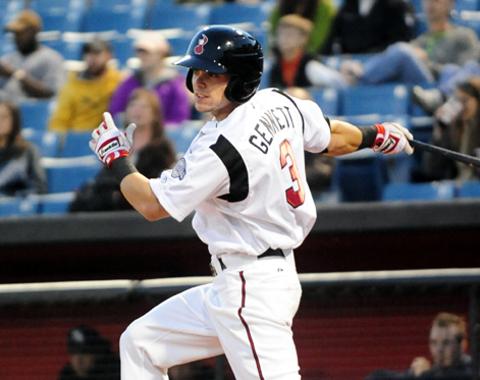 Every Sounds starter recorded a hit in the game, led by rehabbing infielder Jeff Bianchi's 3-for-5 effort.
After scoring only five runs in their previous three games and 23 innings of action, Nashville exploded for seven runs in the first two innings against RedHawks right-hander Ross Seaton. However, the offense would slow down from there, netting only one run over the final seven frames as the Sounds left nine runners on base and grounded into four double plays while Oklahoma City rallied to earn the win.
The Sounds got off to a quick start, jumping on Seaton for a pair of first-inning runs and an early 2-0 lead.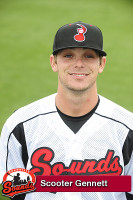 Scooter Gennett (2-for-5) opened the game by extending his hitting streak to 10 games with a double to right and scored the night's first run when Bianchi followed with an RBI single to left-center. After Hunter Morris flew out, Stephen Parker — batting in the cleanup spot for the first time this season — doubled the Nashville lead by lacing a run-scoring double into the right field corner.
Gennett is batting .411 on the year while Bianchi raised his average to .294 in his eight rehab games with Nashville.
Oklahoma City got a run back in the home half of the frame, halving the Sounds' lead to 2-1. A leadoff walk issued by Frankie De La Cruz came back to haunt the Nashville right-hander as Trevor Crowe eventually scored on Brett Wallace's two-out RBI single in the frame.
Nashville continued its offensive surge in the second, batting around for the first time all season and plating five more runs to extend the advantage to 7-1.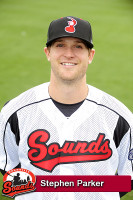 After a Cole Garner double and a pair of walks loaded the bases to start the frame, Gennett smashed a sharply-hit ball to first that caromed off the glove of Wallace into right field for a two-run single. Bianchi followed with his second RBI knock of the day, driving a two-run triple off the top of the center field wall to up the Nashville lead to 6-1. After Morris lined out, Parker followed with an RBI single to right to drive in the frame's fifth run.
The RedHawks fought back in the bottom of the second, scoring three runs off De La Cruz to cut the Sounds' lead to 7-4. Former Sound Jason Jaramillo got one back by driving a one-out RBI double off the right field wall before scoring on Crowe's second longball of the year, a two-run shot to right.
Following Seaton's departure for Oklahoma City, left-hander Kyle Hallock (1-0) took over on the hill and stifled the Sounds' offense. The southpaw picked up his first victory of the year by tossing 4 1/3 scoreless innings, limiting Nashville to two hits over that span.
Oklahoma City rallied to take its first lead of the evening by posting a four-spot against De La Cruz in the bottom of the fourth. Jake Elmore (3-for-3) blasted a two-run homer into the bullpen beyond the wall in left-center to get things started before back-to-back triples by Jimmy Paredes and Marc Krauss knotted the contest at 7-7. Two batters later, Jonathan Villar (3-for-4) dropped a bloop single just beyond the outstretched glove of Gennett in shallow center field to plate Krauss and put the RedHawks on top, 8-7.
De La Cruz (1-3) drew a loss for the third straight start after surrendering eight runs on 10 hits in his 3 2/3 innings. Entering the contest, the veteran had permitted only 10 hits in 15.0 IP in his previous four outings.
The RedHawks added to their lead when Elmore struck again, this time with an RBI triple to right off Chris Jakubauskas that plated Crowe for his fourth run scored of the night.
Nashville recorded three hits in the top of the seventh but also grounded into its fourth double play of the night and stranded a pair against left-hander Eric Berger in a scoreless frame.
Kyle Heckathorn worked around a pair of runners in scoring position in the bottom of the seventh to work a scoreless frame and keep the Sounds at a two-run deficit.
The Sounds got back on the scoreboard in the top of the eighth, rallying for a run against Berger to stop Oklahoma City's string of eight unanswered runs, but missed a golden opportunity to do even more damage as they wasted a no-out, bases-loaded situation.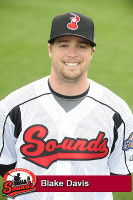 Blake Davis led off with a double to left and Dayton Buller followed with a chopper through the right side for an RBI single that drew Nashville within a single score at 9-8. Gennett reached when Crowe dropped his fly ball in left field and the Sounds loaded the bases with no outs when Bianchi hit a chopper to third on which Rauol Torrez made a bad throw to second on the attempted force out.
Jose Valdez took over on the hill for Oklahoma City and escaped the inherited bases-loaded jam, fanning Morris and Parker for the first two outs before retiring Sean Halton on an inning-ending groundout.
Valdez closed out the game by retiring Nashville in order in the ninth to earn his league-leading seventh save of the year.
The teams continue the series with another 7:05 meeting on Tuesday evening. Right-hander Johnny Hellweg (1-2, 4.00) will make the start for the Sounds and face RedHawks right-hander Jarred Cosart (2-0, 2.86).
Box Score
Oklahoma City RedHawks (14-10) 9, Nashville Sounds (7-15) 8
April 29th, 2013
| Final | 1 | 2 | 3 | 4 | 5 | 6 | 7 | 8 | 9 | | R | H | E |
| --- | --- | --- | --- | --- | --- | --- | --- | --- | --- | --- | --- | --- | --- |
| Nashville Sounds | 2 | 5 | 0 | 0 | 0 | 0 | 0 | 1 | 0 | | 8 | 14 | 0 |
| Oklahoma City RedHawks | 1 | 3 | 0 | 4 | 1 | 0 | 0 | 0 | X | | 9 | 15 | 2 |
1-Ran for Buller in the 8th.
BATTING
2B: Gennett (3, Seaton), Parker, S (4, Seaton), Garner (2, Seaton), Halton (9, Berger), Davis, B (3, Berger).
3B: Bianchi (1, Seaton).
TB: Garner 2; Bianchi 5; Buller; Halton 3; Gennett 3; Davis, B 2; Parker, S 3; Morris, H; Gindl.
RBI: Bianchi 3 (6), Parker, S 2 (5), Gennett 2 (5), Buller (2).
Runners left in scoring position, 2 out: Gindl; Garner 2; Halton 2.
GIDP: Morris, H, Gindl, Bianchi, Parker, S.
Team RISP: 6-for-15.
Team LOB: 9.FIELDING
PB: Buller (6).
DP: (Gennett-Bianchi-Morris, H).
Pickoffs: Jakubauskas (Villar at 2nd base).
BATTING
2B: Jaramillo (1, De La Cruz, F).
3B: Paredes (2, De La Cruz, F), Krauss (2, De La Cruz, F), Elmore (1, Jakubauskas), Villar (3, Wooten).
HR: Crowe (2, 2nd inning off De La Cruz, F, 1 on, 1 out), Elmore (2, 4th inning off De La Cruz, F, 1 on, 1 out).
TB: Villar 5; Wallace 2; Crowe 6; Elmore 7; Krauss 3; Paredes 4; Jaramillo 2; Simunic.
RBI: Wallace (3), Jaramillo (3), Crowe 2 (14), Elmore 3 (13), Krauss (24), Villar (11).
2-out RBI: Wallace; Villar; Elmore.
Runners left in scoring position, 2 out: Villar; Simunic; Paredes 3; Torrez.
GIDP: Lin.
Team RISP: 5-for-15.
Team LOB: 10.BASERUNNING
SB: Crowe 3 (9, 2nd base off De La Cruz, F/Buller, 2nd base off Heckathorn/Buller, 3rd base off Heckathorn/Buller), Villar 2 (6, 2nd base off Jakubauskas/Buller, 2nd base off Jakubauskas/Buller), Elmore (4, 2nd base off Heckathorn/Buller).
PO: Villar (2nd base by Jakubauskas).FIELDING
E: Crowe (1, fielding), Torrez (1, throw).
DP: 4 (Elmore-Villar-Wallace, Elmore-Wallace, Villar-Elmore-Wallace 2).
Oklahoma City RedHawks
Player
IP
H
R
ER
BB
SO
HR
ERA
Ross Seaton
1.2
7
7
7
3
2
0
11.57
Kyle Hallock (W, 1-0)
4.1
2
0
0
2
0
0
4.11
Eric Berger (H, 1)
1.0
5
1
1
0
1
0
8.31
Jose Valdez (S, 7)
2.0
0
0
0
0
2
0
1.42
Totals
9.0
14
8
8
5
5
0
5.04
Berger pitched to 4 batters in the 8th.
Pitches-strikes: De La Cruz, F 83-46, Jakubauskas 44-23, Heckathorn 23-11, Wooten 12-7, Seaton 45-23, Hallock 46-24, Berger 37-23, Valdez, J 21-15.
Groundouts-flyouts: De La Cruz, F 6-1, Jakubauskas 1-2, Heckathorn 3-0, Wooten 2-1, Seaton 0-2, Hallock 8-2, Berger 2-1, Valdez, J 2-1.
Batters faced: De La Cruz, F 24, Jakubauskas 10, Heckathorn 5, Wooten 4, Seaton 15, Hallock 14, Berger 9, Valdez, J 6.
Inherited runners-scored: Jakubauskas 1-0, Hallock 2-0, Valdez, J 3-0.
Umpires: HP: Joe West. 1B: Hal Gibson III. 2B: Brian Hertzog. 3B: Adam Schwarz.
Weather: 84 degrees, clear.
Wind: 20 mph, Varies.
T: 3:14.
Att: 4,677.