Reed Harper, Tatiana Ariza, Nikki Doyle and Tyler Rogers take top honors

Clarksville, TN – Austin Peay State University's athletic department handed out its individual/team honors and awards for the 2012-13 school year, at the Dunn Center April 29th, with a local product and a transfer taking home the events top award.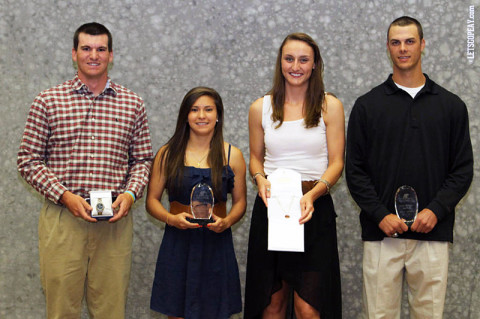 Men's Legends Award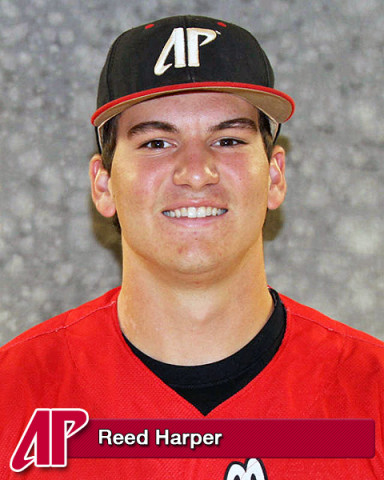 Governors baseball player Reed Harper was the Legends Award recipient, on the men's side, given to the senior male athletic that was voted the most valuable by the department's coaches and administrators.
Harper came to Austin Peay as a walk-on after prepping at Clarksville High School, following his father, Ralph, an All-American infielder in the 1980's, and brother Ryne to APSU baseball.
He has been a part of two straight Ohio Valley Conference regular-season and tournament championships and a program that has 134 victories and counting during his career.
Harper is only the 15th player in APSU history to reach 200 hits in his career, with his 250 hits rank third most all time. He is also ranked in the Top 25 in 23 other categories.
Women's Legends Award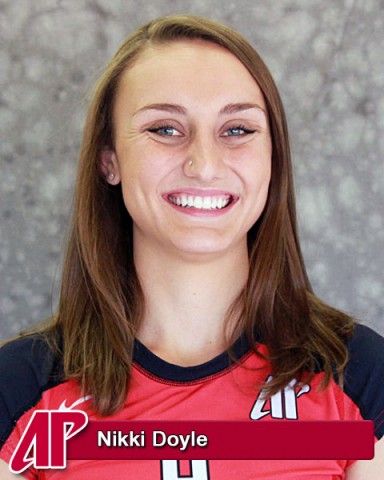 On the women's side, volleyball's Nikki Doyle was named the women's Legends Award winner after transferred to Austin Peay from UC Santa Barbara and sitting out a season to meet NCAA transfer requirements.
Doyle immediately moved into the Lady Govs starting lineup in 2010 became the first Lady Govs volleyball player in school history to become a three-time All-OVC selection. Along the way, she also became the first Lady Govs player to tally three 400-kill seasons – while also leading the team to its first ever NCAA tournament appearance in 2010.
Despite playing only three seasons with the Lady Govs, Doyle leaves fifth all time in kills (1,265) along with 971 digs, 19th most in APSU history.
About the Legends Awards
This is the fifth year the Legends Award has been bestowed, continuing APSU's long-standing tradition of honoring the most valuable male and female senior athletes, respectively. The Legends Award, sponsored by Legends Bank, assumed the place of the Joy Award, which was originated in 1947 by the late Wilson Goodrich, then owner of Joy's Jewelers.
From 1947-96, one APSU senior athlete was honored each year. However, beginning in 1997 a male and female senior athlete, respectively, was honored by Joy's and that continued through 2008. However, Joy's Jewelers closed its business in Spring 2008, with Legends Bank assuming the tradition of honoring athletics excellence.
Other Awards
In the night's other big individual awards, soccer's Tatiana Ariza, who led the OVC in scoring after playing for her native Colombia in the 2012 London Olympics, was named APSU's Most Outstanding Female Athlete, while baseball's closer Tyler Rogers, who currently leads the nation in saves, after breaking the OVC single-season mark in that category last week, has been named the Most Outstanding Male Athlete.
In addition to the Outstanding Athlete and Legends Awards, football player Ben Stansfield, who has a 4.0 GPA in psychology and track and field's Molly Basch (4.0 GPA in psychology) were named the 2013-14 Perkins Freeman Governors Club Academic Scholarship recipients for owning the highest GPAs of rising seniors.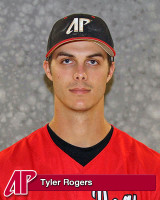 Women's golfer Tabitha Beard was named as the Perkins Freeman Governors Club Academic Achievement Award recipient for possessing the highest GPA of a graduating senior student-athlete, with a 3.97 GPA in Interdisciplinary Studies.
Stansfield was also named the department's Male Scholar-Athlete, while Basch shared the Women's Scholar-Athlete Award with volleyball's Liz Landon, who has a 4.0 in health and human performance.
The Athletic Department also gave two awards to corporate and individual boosters, who have made huge contributions to the department.
Charles Hand was named the Outstanding Athletic Corporate Partner, while Bobby Mills was named Outstanding Athletics Booster.
Award Recipients
Individual Awards
Legends Award (men)—Reed Harper, baseball
Outstanding Male Athlete—Tyler Rogers, baseball
Legends Award (women)—Nikki Doyle, volleyball
Outstanding Female Athlete—Tatiana Ariza, soccer
Female Scholar-Athlete Award— Molly Basch, Track and Field, and Liz Landon, volleyball
Male Scholar-Athlete Award—Ben Stansfield, football
Governors Club Academic Achievement Award Scholarship—Molly Basch, track and field, and Ben Stansfield, football
Governors Club Academic Achievement Award—Tabitha Beard, women's golf
Team Awards
Baseball: Most Valuable—Greg Bachman (2012), Pitcher of the Year—Tyler Rogers (2012), Most Improved—P.J. Torres (2012), Scholar-Athlete—Brett Carlson (3.82 GPA)
Men's Basketball: Most Valuable—Travis Betran, Most Improved—Chris Horton, Scholar Athlete—Joe Harms (3.57 GPA)
Women's Basketball: Newcomer of the Year—Alexis Hardaway, Most Improved–Tiasha Gray; Scholar Athlete—Kristen Stainback (3.95 GPA)
Men's Cross Country: Most Valuable—Konnor Kessler, Scholar Athlete—Konnor Kessler (3.82 GPA)
Women's Cross Country: Most Valuable—Xiamar Richards, Scholar Athlete— Alyssa Molnar (3.50 GPA)
Women's Indoor/Outdoor Track: Track Athlete of Year–Chantelle Grey, Field Athlete of Year–Jasmine Foster, Newcomer of the Year—Breigh Jones, Scholar Athlete–Molly Basch (4.0 GPA)
Football: Most Valuable Offense—Devin Stark, Most Valuable Defense—Earnest Smith, Most Valuable Special Teams—Ben Campbell; Scholar Athlete—Ben Stansfield (4.0 GPA)
Men's Golf: Most Valuable—Dustin Korte and Anthony Bradley, Scholar Athlete—Trey Tarpley (3.44 GPA)
Women's Golf: Most Valuable—Jessica Cathey, Most Improved—Tala Mumford, Scholar Athlete— Tabitha Beard (3.98 GPA)
Women's Soccer: Most Valuable—Tatiana Ariza and Emily Perkins; Scholar Athlete—Claire Pultz (3.91 GPA)
Softball: Most Valuable—Kayla Davidson; Most Improved—Laurel Burroughs, Scholar Athlete—Morgan Brewer (3.70 GPA)
Men's Tennis: Most Valuable—Sean Bailey, Most Improved—John Storie, Scholar Athlete—Sean Bailey (3.95 GPA)
Women's Tennis: Most Valuable—Alison Carre, Most Improved—Vanessa Tavares, Scholar Athlete—Andra Cornea (3.59 GPA)
Volleyball: Most Valuable—Nikki Doyle, Most Improved—Elizabeth Landon, Scholar Athlete— Liz Landon (4.0 GPA)
Pom Squad: Most Valuable—Kara Wyatt and Lacy Groves, Scholar Athlete— Katelyn Hamaker (3.66 GPA)
Cheerleading: Most Valuable—Alex Stallworth, Most Improved—Emilee Taylor, Scholar Athlete—Miranda White (3.8 GPA)