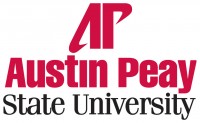 Clarksville, TN – The recipient of the 2013 Command Sgt. Maj. Darol Walker Award at Austin Peay State University is one of the nation's top ROTC cadets.
Cadet Nathan Brewer with APSU's Governors Guard Battalion of the Reserve Officers' Training Corps (ROTC) was presented the award during a breakfast ceremony held Thursday, May 2nd at APSU. He already has prior military service, having been assigned to the 5th Special Forces Group and 82nd Airborne Division.
Brewer said the Walker Award is special.
"There is nothing better than to be honored with an award named for a senior military leader," he said.
Brewer – designated a Distinguished Military Graduate last fall, representing the top 20 percent in the nation among 5,592 cadets – will graduate from APSU in May with a bachelor's degree in professional studies and a minor in military science. He will be commissioned as an infantry officer, and after further education and training at Fort Benning, GA, he will be assigned to Fort Lewis, WA.
The award is established in honor of Darol Walker, retired vice president of Jack B. Turner and Associates Inc. in Clarksville and retired command sergeant major in the Army. He entered the life insurance business in 1977 after retiring from the Army. In addition, he has served in several leadership positions in various community organizations, including past president of both the Clarksville Rotary Club and the Montgomery County Habitat for Humanity.
A distinguished veteran, Walker also is a 1991 graduate of Leadership Clarksville and served as co-chair of the Military Affairs Committee of the Clarksville Area Chamber of Commerce.
The award was created by Jack B. Turner to recognize Walker and his efforts in support of the military and local community.
Both Turner and Walker attended the breakfast, along with guest speaker retired Gen. Gary Luck, former commander in chief of the United Nations. Luck currently is a business consultant and a senior fellow for the National Defense University in support of the Capstone, Keystone and Pinnacle joint professional military education courses. He also provides advice and counsel to senior commanders and staff when requested.