Clarksville, TN – Organizers of the Mickey Fisher Memorial Golf Tournament have announced the dates for this year's event.
This annual golf tournament, in memory of the late Mickey Fisher, will benefit the Mickey Fisher Scholarship fund, an endowment to benefit dependents of wounded or fallen Fort Campbell soldiers with scholarships to Austin Peay State University.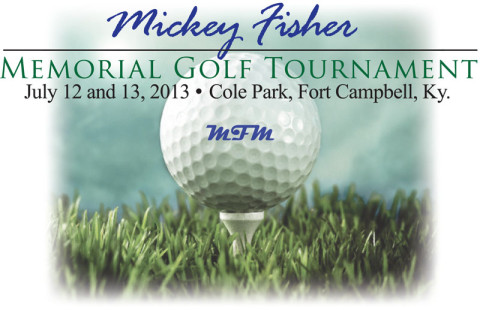 The dates for this year's event are Friday, July 12th and Saturday, July 13th 2013, at Cole Park Golf Course, Fort Campbell. This year, participants have the choice between morning tee times on Friday, or Saturday. There will be pre-tournament dinner and auction on July 12th for all participants at 6:00pm at the Bud Barn.
There will be an awards ceremony with prizes awarded at the conclusion of each session for flights 1&2 and at the conclusion of Saturday's play for Championship and Seniors. For golfers to participate in the Senior Division, the minimum age is 60. Lunch will be served on Saturday.
The "Big Fish" is a four-man scramble format, and everyone is invited to play. Entry forms are available at all area pro-shops.
Entry fee is $400.00 per team. If you wish to just attend the dinner and auction, tickets are $15.00 each, $25.00 per couple.
Mail entry forms to:
Austin Peay State University
P.O Box 4417
Clarksville, TN 37044
For more information, call 931.905.0050, or 931.221.7024.
To read more about the life of Mickey Fisher, visit www.clarksvilleonline.com, and search "Memories of Mickey."