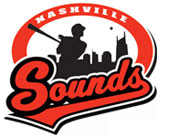 Nashville, TN – The Nashville Sounds return to Greer Stadium this Tuesday, May 7th, for their third homestand of the season: an eight-game stretch in which the team welcomes the Fresno Grizzlies (San Francisco Giants affiliate) for four games spanning May 7th-10th, and the Sacramento River Cats (Oakland A's affiliate) from May 11th-14th.
Highlighting the homestand's worth of promotions will be two fireworks extravaganzas, one BURGER KING Throwback Thursday when fans can enjoy $2.00 concession items, two Education Days, and the first of six Trevecca Nazarene University FAITH NIGHTS®.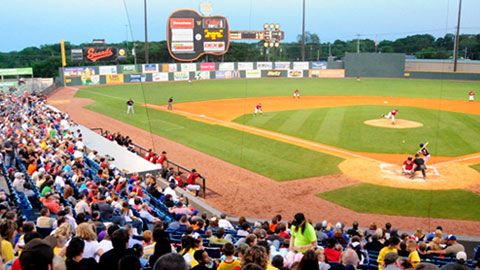 Tuesday, May 7th vs. Fresno at 7:05pm (Gates Open at 6:05pm)
The Sounds kick off the homestand with a Coke Zero Two-For-One Tuesday. Fans attending are encouraged to help Coca-Cola and the Nashville Sounds keep Tennessee beautiful through recycling an empty Coke Zero bottle or can at the gates. Participating fans will receive special two-for-one ticket pricing.
The night will also celebrate 'Music City' with Sounds Music Industry Night. The second of nine dates this season is presented by Women Rock For The Cure and offers Sounds fans in the music industry special game tickets and pregame drink deals. Check out @SoundsMIN on Twitter for more.
Wednesday, May 8th vs. Fresno at 11:05am (Gates Open at 9:35am)
Wednesday morning's game marks the second of three Education Day games of the season, and first of two this homestand. For Education Day, students in attendance will have the opportunity to participate in a pregame parade with Ozzie and receive an Education Day workbook presented by the Nashville Sounds Foundation.
Thursday, May 9th vs. Fresno at 7:05pm (Gates Open at 6:05pm)
The Sounds will wear retro blue jerseys for BURGER KING Throwback Thursday, where fans can purchase hot dogs, fountain drinks, beer, popcorn and nachos for just $2.00 apiece. In addition, fans can receive a $5.00 general admission ticket by presenting a BK receipt at the Advance Financial Box Office. College students may also receive the Throwback Thursday discounted ticket with a valid student ID.
Friday, May 10th vs. Fresno at 7:05pm (Gates Open at 6:05pm)
The Sounds wrap their series against the Grizzlies on Friday and the evening will be capped off by a fireworks show following the game.
Friday also marks the first of back-to-back Reading Club games, offering students the chance to participate in an on-field, pre-game parade with Ozzie. Students are eligible to win prizes for reaching "home plate" in the program.
Johnsonville Big Taste Grill will be making their presence known at Greer Stadium Friday night and into the weekend with the world's largest touring grill on display at the front gates, serving up Johnsonville's finest. The Johnsonville Big Taste Grill will be outside Greer Stadium cooking up brats by the hundreds and raising money for a good cause. Brat sales this weekend will benefit a local charity.
Saturday, May 11th vs. Sacramento at 6:35pm (Gates Open at 5:35pm)
Kids are offered another chance to win prizes on the second Reading Club game of the homestand for Saturday's opener against the Sacramento River Cats. With nearly 65,000 students from over 224 different schools enrolled in the program, thousands of local kids will be in attendance.
Prior to Saturday's contest, musical artist The Katinas will perform a pregame concert on the plaza stage near the first-base entrance approximately one hour before the first pitch, to kick off the Trevecca Nazarene University FAITH NIGHTS®. The series runs for six dates this summer and features a pregame concert by popular local Christian acts.
The night will conclude with postgame fireworks, courtesy of Nashville's NEWS 2, making Saturday evening another can't miss night at the ballpark with the Nashville Sounds!
Sunday, May 12th vs. Sacramento at 2:05pm (Gates Open at 1:05pm)
Ozzie's Fit and Fun Club members are invited to Greer Stadium for Fitness Zumba with Ozzie, presented by Dick's Sporting Goods. Ozzie's Fit and Fun Club features a special activity every Sunday this season and is $15.00 to join. Registration forms are available at every Sounds home game or on NashvilleSounds.com/kidsclub.
In addition, the game will be a Piedmont Natural Gas Military Sunday presented by Tennessee 811. The Sounds will wear camouflage jerseys, while servicemen/women, veterans, and their families receive $5.00 off reserved or general admission tickets with a valid Military ID; limit 5 discounted tickets per ID.
Also taking place on Sunday will be the Sounds Faith and Family Sundays, where fans can receive $5.00 off tickets by presenting a church or community bulletin at the Sounds Advance Financial Box Office; limit eight discounted tickets per bulletin.
Monday, May 13th vs. Sacramento at 7:05pm (Gates Open at 6:05pm)
Dollar Hot Dog Night at Greer Stadium allows fans to score hot dogs for just $1.00 apiece.
Tuesday, May 14th vs. Sacramento at 11:05am (Gates Open at 9:35am)
The Sounds conclude their homestand with the final Education Day of the season. And as with the homestand opener, fans can receive special two-for-one ticket pricing by bringing in an empty Coke Zero can or bottle for Coke Zero Two-For-One Tuesdays.
Following the homestand, Nashville will begin an eight-game road trip to square off against the Salt Lake Bees (Angels affiliate) for a four-game series before traveling to the Pacific Northwest to take on the Tacoma Rainiers (Mariners affiliate). The Sounds return to Nashville on Friday, May 24th, to open an eight-game homestand against the Albuquerque Isotopes (Dodgers affiliate) and the Iowa Cubs (Cubs affiliate).
Individual tickets as well as group packages are currently on sale. Call 615.690.HITS or visit the tickets page to order or for more information.