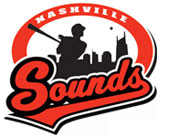 Memphis, TN – The Nashville Sounds were unable to keep pace with the Memphis Redbirds Saturday night at AutoZone Park, held to five hits in the 7-2 loss by Nick Additon (6-4) and company.
Additon retired the first 14 Nashville batters in order before outfielder Hainley Statia touched the lefty for a home run to left field. The homer, Statia's second in as many games after not having one since July 30th, 2011, pulled the Sounds to within two, trailing 3-1 in the fifth.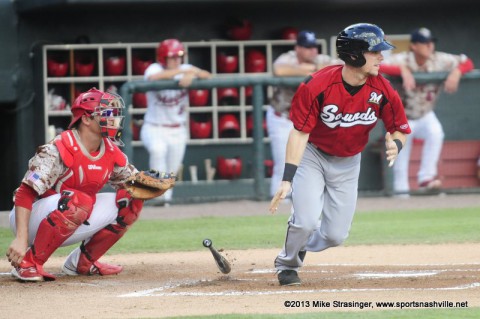 The Redbirds pulled back out by three in the home half of the inning when Nashville shortstop Ozzie Chavez let a ground ball roll up his glove to squander what may have been an inning-ending double play. Instead, with runners on the corners and one out, the fielding error scored a run for Memphis.
Memphis furthered its lead in the seventh inning, plating three runs against reliever Tim Dillard to make it 7-1. Three singles started the inning, with Adron Chambers' single pushing Greg Garcia across. Additon advanced both runners into scoring position with his second sac-bunt of the night and Thomas Pham hit a single into left field to add the second run. A ground out scored Chambers.
Additon held Nashville to three hits across seven innings of work to pick up his sixth win of the season. The Sounds worked their second run off the lefty in the seventh when Hunter Morris lofted a fly ball to right field that scored Josh Prince on the sacrifice. Prince led off the inning with a double to left field.
The Redbirds got on the board first on Jamie Romak's 18th home run of the season in the second inning. The shot to the left-field bluff was the eighth allowed by Sounds starter R.J. Seidel (1-4) and put the 'Birds up 1-0.
Seidel walked Garcia with one out and the shortstop proceeded to steal two bags to line himself up for an easy jog to home plate on Chambers' sacrifice fly.
Memphis' Kolten Wong added to the Redbirds' advantage with a solo home run clearing the right-field wall in the third inning. Seidel took the loss, finishing with four runs on three hits over 4 1/3 innings. He fanned four Redbirds and walked three.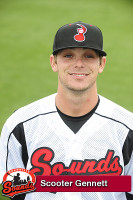 Dillard entered with one out and the bases loaded in the fifth inning and retired his first two to get Nashville out of the fifth-inning jam. After the sixth, Travis Webb and Rob Wooten pitched one scoreless frame each for Nashville.
Robinzon Diaz, Ozzie Chavez and Scooter Gennett recorded the Sounds final three hits in the game. Gennett legged out an infield single in his final at-bat to extend his hit streak to 11 games. Diaz has successfully reached base in each game he has starter for Nashville.
The Sounds will conclude their series with the Redbirds on Sunday evening at AutoZone Park, looking to split the series. Throwing for Nashville will be RHP Hiram Burgos (1-3, 2.93) against lefty Tyler Lyons (3-1, 3.43).
Baseball returns to Greer Stadium on Thursday, July 11th for a BURGER KING Throwback Thursday, where fans can enjoy $2.00 beer and select concession items.
Photo Gallery
Box Score
Memphis Redbirds (43-47) 7, Nashville Sounds (32-58) 2
July 6th, 2013
1
2
3
4
5
6
7
8
9
R
H
E
Nashville Sounds
0
0
0
0
1
0
1
0
0
2
5
1
Memphis Redbirds
0
2
1
0
1
3
0
0
x
7
9
1
a-Grounded out for Webb in the 8th.
BATTING
2B: Prince (16, Additon).
HR: Statia (2, 5th inning off Additon, 0 on, 2 out).
TB: Chavez, O; Prince 2; Diaz, R; Gennett; Statia 4.
RBI: Statia (15), Morris, H (45).
2-out RBI: Statia.
SF: Morris, H.
Team RISP: 1-for-3.
Team LOB: 2.FIELDING
E: Chavez, O (3, fielding).
a-Grounded out for Freeman, S in the 8th.
BATTING
2B: Chambers 2 (11, Seidel, Wooten), Garcia, G (14, Webb).
HR: Romak (18, 2nd inning off Seidel, 0 on, 0 out), Wong (6, 3rd inning off Seidel, 0 on, 1 out).
TB: Chambers 5; Wong 4; Romak 4; Garcia, G 3; Pham; Johnson, Ro.
RBI: Romak (49), Chambers 2 (28), Wong 3 (28), Pham (5).
Runners left in scoring position, 2 out: Curtis 2; Peterson; Johnson, Ro; Wong.
SAC: Additon 2.
SF: Chambers.
Team RISP: 2-for-12.
Team LOB: 7.BASERUNNING
SB: Garcia, G 2 (7, 2nd base off Seidel/Diaz, R, 3rd base off Seidel/Diaz, R).FIELDING
E: Chambers (2, fielding).
Memphis Redbirds
Player
IP
H
R
ER
BB
SO
HR
ERA
Nick Additon (W, 6-4)
7.0
3
2
2
0
5
1
4.22
Sam Freeman
1.0
2
0
0
0
1
0
2.94
Fernando Salas
1.0
0
0
0
0
0
0
1.04
Totals
9.0
5
2
2
0
6
1
4.05
Pitches-strikes: Seidel 84-52, Dillard 31-21, Webb 16-11, Wooten 8-8, Additon 92-61, Freeman, S 11-7, Salas 9-7.
Groundouts-flyouts: Seidel 7-3, Dillard 4-0, Webb 1-0, Wooten 1-1, Additon 5-9, Freeman, S 1-0, Salas 0-3.
Batters faced: Seidel 21, Dillard 9, Webb 4, Wooten 4, Additon 24, Freeman, S 4, Salas 3.
Inherited runners-scored: Dillard 3-0.
Umpires: HP: Brian Hertzog. 1B: Adam Schwarz. 3B: Hal Gibson III.
Weather: 86 degrees, partly cloudy.
Wind: 5 mph, Out to LF.
T: 2:34.
Att: 9,326.
Venue: AutoZone Park.
July 6, 2013