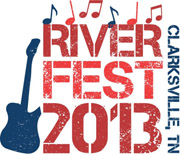 Clarksville, TN – Riverfest is excited to announce the Friday and Saturday night headline performers for the 2013 festival to be held September 6th and 7th. The two-day festival has been celebrating music, arts and Clarksville river heritage for 26 years this year!
On, Friday, September 6th, Clarksville Riverfest is proud to welcome Christian recording group Sidewalk Prophets. Sidewalk Prophets will be performing at 9:00pm on the First Baptist Church Stage.
Country recording artist Phil Vassar will take the stage at 9:00pm as the headlining performer on the Miller Stage on Saturday, September 7th. Both concerts are free and open to the public.
"We are so excited to feature Phil Vassar and Sidewalk Prophets at Riverfest this year," said Jennifer Byard, Festival Director. "We love being able to bring great musical acts to the Clarksville community, especially at no charge to festival-goers."
Other artists and additions to the 2013 festival will be announced in the weeks to come.
About Riverfest
Riverfest will be held September 6th-7th, 2013 along the banks of the Cumberland River at McGregor Park, located at 640 North Riverside Drive. Admission and entertainment at the Festival are free and open to the public.
More announcements will be made soon, as new events and entertainment are finalized and will be available on the Festival website, www.clarksvilleriverfest.com.