Clarksville, TN – The Friends of the Clarksville Blueway and the Clarksville Parks and Recreation Department have partnered to host the 1st Annual "Rally on the Cumberland" Canoe and Kayak Race and Outdoor Expo on August 24th at Liberty Park.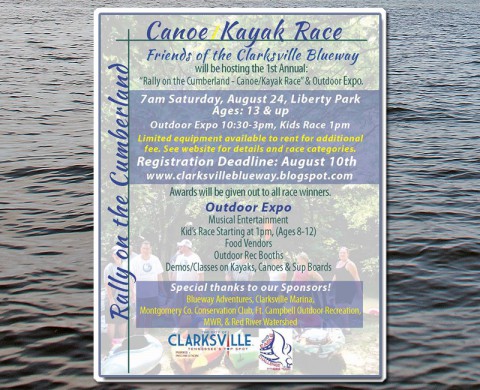 The Race begins at 7:00am followed by a free Outdoor Expo from 10:30am-3:00pm. Races will be held in heats beginning at the Montgomery County Conservation Club and finishing at Freedom Point.
Racers will be transported from Liberty Park to the Conservation Club to begin the race.
Participants may provide their own canoe or kayak or rent equipment for an additional fee while supplies last so register early. Cost per person to enter the race is $10.00 for ages 13-17 and $20.00 for those 18 and older. Deadline to enter is August 10th.
Rally on the Cumberland will also feature musical entertainment, canoe, kayak and paddle board demonstrations, and a boat race for youth ages 8-12 in the Clarksville Marina basin as a part of the Outdoor Expo.
For more information on "Rally on the Cumberland", please contact the Clarksville Parks and Recreation at 931.645.7476.