Nashville's Johnny Hellweg Picks Up League-Leading 10th Victory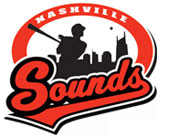 Nashville, TN – Following a two-hour and 18-minute pregame rain delay, the Nashville Sounds edged the Las Vegas 51s, 3-1, in a rain-shortened contest Tuesday night at Greer Stadium.
In the third inning, infielder Robinzon Diaz, 1-for-3, got the Sounds on the board with an RBI single into centerfield. The hit scored Kentrail Davis from third, who singled and stole second earlier in the frame.
The Sounds added to their lead in the sixth on Josh Prince's solo home run to right field. The two-out shot was Prince's 10th dinger of the season.
Starting pitcher Johnny Hellweg (10-4) kept the 51s silent over the game's first six innings en route to his ninth consecutive PCL victory. The 6-foot-9 hurler held Vegas to three hits, walking four and fanning three.
Hellweg shaves his season-long ERA from 2.44 to a league-leading 2.28. Hellweg has not allowed an earned run in his last 24 innings and has only allowed one earnie over his last 42 frames. Hellweg's win ties the Sacramento River Cats' Bruce Billings for league-most, at 10 each.
Las Vegas worked their lone run off reliever Zach Kroenke with two outs in the top of the eighth inning. Pinch hitter Kirk Nieuwenhuis hit an RBI single off Kyle Heckathorn to score Kroenke's runner on second. Heckathorn had the next batter groundout to end the inning and pick up his first save.
Las Vegas starter Rafael Montero (2-3) took the loss after holding Nashville to two runs over six innings of work
The Sounds loaded the bases in the home half of the eighth inning before Josh Prince drew a walk for his second RBI of the night. Before the next batter made it up to bat, the rain had picked up enough to have the umpires call for the tarp. The game ended after a 40-minute delay
The Sounds play game two against Las Vegas Wednesday night at Greer Stadium. Throwing for Nashville will be RHP Jimmy Nelson (2-4, 3.86) opposite the 51s' RHP Chris Schwinden (4-9, 6.03). First pitch is slated for 7:05pm.
Box Score
Nashville Sounds (40-71) 3, Las Vegas 51s (60-49) 1
July 30th, 2013
1
2
3
4
5
6
7
8
9
R
H
E
Las Vegas 51s
0
0
0
0
0
0
0
1
x
1
5
0
Nashville Sounds
0
0
1
0
0
1
0
1
x
3
8
0
a-Flied out for Montero in the 7th. b-Singled for Campbell in the 8th.
BATTING
2B: den Dekker (5, Hellweg).
TB: Lutz, Z 2; Baxter; Nieuwenhuis; den Dekker 2.
RBI: Nieuwenhuis (20).
2-out RBI: Nieuwenhuis.
Runners left in scoring position, 2 out: Valdespin; Montero; Lutz, Z; Tejada, R; Pena, F 2.
GIDP: Pena, F 2.
Team RISP: 1-for-10.
Team LOB: 9.FIELDING
DP: (Flores, W-Tejada, R-Campbell).
a-Batted for Heckathorn in the 8th.
BATTING
HR: Prince (10, 6th inning off Montero, 0 on, 2 out).
TB: Velez; Prince 5; De La Rosa, A; Diaz, R; Halton; Morris, H; Davis, Ke.
RBI: Diaz, R (12), Prince 2 (39).
2-out RBI: Prince.
Runners left in scoring position, 2 out: Davis, B; Halton; Diaz, R.
GIDP: Velez.
Team RISP: 3-for-8.
Team LOB: 9.BASERUNNING
SB: Davis, Ke (2, 2nd base off Montero/Pena, F), Velez (4, 2nd base off Montero/Pena, F).FIELDING
PB: De La Rosa, A (10).
DP: 2 (Diaz, R-Velez-Morris, H, Davis, B-Velez-Morris, H).
Nashville Sounds
Player
IP
H
R
ER
BB
SO
HR
ERA
Johnny Hellweg (W, 10-4)
6.0
3
0
0
4
3
0
2.28
Zach Kroenke (H, 3)
1.2
1
1
1
1
0
0
4.59
Kyle Heckathorn (S, 1)
0.1
1
0
0
0
0
0
3.72
Totals
8.0
5
1
1
5
3
0
4.47
Rodriguez, A pitched to 4 batters in the 8th.
WP: Hellweg.
HBP: Tejada, R (by Hellweg), Campbell (by Hellweg).
Pitches-strikes: Montero 105-67, Henn 8-7, Rodriguez, A 15-5, Leathersich 0-0, Hellweg 87-50, Kroenke 29-17, Heckathorn 2-2.
Groundouts-flyouts: Montero 6-4, Henn 0-1, Rodriguez, A 0-0, Leathersich 0-0, Hellweg 7-4, Kroenke 1-3, Heckathorn 1-0.
Batters faced: Montero 26, Henn 3, Rodriguez, A 4, Leathersich 0, Hellweg 25, Kroenke 7, Heckathorn 2.
Inherited runners-scored: Leathersich 3-0, Heckathorn 2-1.
Umpires: HP: Tom Woodring. 1B: Gerard Ascani. 3B: Joel Hospodka.
Weather: 74 degrees, drizzle.
Wind: 1 mph, Out to CF.
T: 2:32 (2:58 delay).
Att: 2,991.
Venue: Herschel Greer Stadium.
July 30, 2013