Velez RBI Single Gives Nashville Its Season-Best Third Straight Win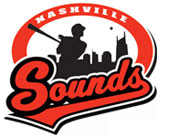 Nashville, TN – Eugenio Velez laced a one-out RBI single to center in the bottom of the ninth inning to give the Nashville Sounds a 3-2 walk-off victory over the Las Vegas 51s on Wednesday evening at Greer Stadium.

With their fourth last at-bat win of the year, the Sounds (41-71) matched their longest winning streak of the season with their third straight victory.

In the decisive frame, Hainley Statia led off with an infield single and was sacrificed to second by Kentrail Davis before racing home on Velez's line-drive game-winner over the center fielder's head. Velez has hit safely in his last four games at a .538 clip (7-for-13), including three extra-base knocks.

Nashville had held a 2-1 lead in the top of the ninth before a blown save necessitated the walk-off heroics.

Starter Jimmy Nelson worked five scoreless innings for Nashville, striking out seven batters while scattering three hits during his season-high 108-pitch outing. He departed in line for the victory but was left with a no-decision following a late blown save by the Sounds' bullpen. With the effort, the 24-year-old lowered his Triple-A ERA to 3.47 in nine starts.

The Sounds took a 1-0 lead in the bottom of the first inning. Kentrail Davis (2-for-3) led off with a single, was sacrificed to second by Velez, advanced to third on a groundout, and scored when Las Vegas starter Chris Schwinden uncorked a wild pitch.

Nashville doubled its advantage to 2-0 in the fifth. Blake Davis (2-for-3) led off with a single and later scored on a Robinzon Diaz RBI fielder's choice.

Las Vegas halved the lead to 2-1 in the seventh when pinch-hitter Jamie Hoffmann belted a leadoff solo homer to left off Sounds reliever Travis Webb, his fifth long ball of the year.

Hoffmann, who remained in the game in left field, continued to torment the Sounds in the bottom of the eighth, when he threw out Statia at the plate as he attempted to score from second on Kentrail Davis' two-out single

Hoffmann struck again for the 51s in the ninth, tying the contest at 2-2 with his second roundtripper of the night. The veteran belted a leadoff solo shot to left-center that careened off the guitar-shaped scoreboard.

Right fielder Sean Halton ripped a one-out double to left in the fourth inning to extend the Sounds' longest hitting streak to eight games (9-for-29, .310).

The teams continue the series with another 7:05pm meeting on Thursday night. Left-hander Chris Narveson (2-6, 6.15) will make the start for the Sounds and face the Albuquerque Isotopes right-hander Giancarlo Alvarado (4-0, 2.08).
Box Score
Nashville Sounds (41-71) 3, Las Vegas 51s (60-50) 2
July 31st, 2013
1
2
3
4
5
6
7
8
9
R
H
E
Las Vegas 51s
0
0
0
0
0
0
1
0
1
2
7
0
Nashville Sounds
1
0
0
0
1
0
0
0
1
3
11
0
One out when winning run scored.
a-Homered for Centeno in the 7th. b-Grounded out for Hampson in the 7th. c-Singled for Church in the 9th.
BATTING
2B: Baxter (7, Nelson).
HR: Hoffmann 2 (6, 7th inning off Webb, 0 on, 0 out; 9th inning off Sanchez, Je, 0 on, 0 out).
TB: Baxter 2; Flores, W; Nieuwenhuis; Valdespin; Hoffmann 8; den Dekker.
RBI: Hoffmann 2 (42).
Runners left in scoring position, 2 out: Lutz, Z 3; Schwinden.
Team RISP: 0-for-3.
Team LOB: 9.FIELDING
Outfield assists: Hoffmann (Statia at home).
Pickoffs: Pena, F (Davis, B at 2nd base).
a-Singled for Olmsted in the 7th.
BATTING
2B: Velez (3, Schwinden), Halton (21, Schwinden).
TB: Velez 3; Diaz, R; Halton 2; Davis, B 2; Statia 2; Morris, H; Davis, Ke 2.
RBI: Diaz, R (13), Velez (1).
Runners left in scoring position, 2 out: Diaz, R 2; Prince; Morris, H; Davis, B.
SAC: Velez; Davis, Ke.
Team RISP: 2-for-10.
Team LOB: 10.BASERUNNING
CS: Davis, B (4, 2nd base by Schwinden/Centeno).
PO: Davis, B (2nd base by Pena, F).FIELDING
PB: Lalli (7).
WP: Schwinden, Church, Nelson.
IBB: Lalli (by Church).
Pitches-strikes: Schwinden 73-45, Hampson 20-11, Carson, R 21-11, Church 25-14, Burke 5-4, Nelson 108-63, Webb 20-12, Olmsted 7-2, Heckathorn 9-6, Sanchez, Je 19-14.
Groundouts-flyouts: Schwinden 5-4, Hampson 3-0, Carson, R 0-0, Church 0-1, Burke 1-0, Nelson 2-5, Webb 0-0, Olmsted 1-0, Heckathorn 1-0, Sanchez, Je 1-1.
Batters faced: Schwinden 21, Hampson 4, Carson, R 4, Church 6, Burke 3, Nelson 21, Webb 5, Olmsted 3, Heckathorn 4, Sanchez, Je 5.
Inherited runners-scored: Hampson 2-0, Church 2-0.
Umpires: HP: Gerard Ascani. 1B: Joel Hospodka. 3B: Tom Woodring.
Weather: 80 degrees, overcast.
Wind: 1 mph, Varies.
T: 3:20.
Att: 2,199.
Venue: Herschel Greer Stadium.
July 31, 2013
Sections
Sports
Topics
Albuquerque Isotopes, Blake Davis, Chris Narveson, Chris Schwinden, Eugenio Velez, Giancarlo Alvarado, Hainley Statia, Jamie hoffmann, Jimmy Nelson, Kentrail Davis, Las Vegas 51s, Nashville Sounds, Nashville TN, Pacific Coast League, PCL, Robinzon Diaz, Sean Halton, Sounds, Travis Webb