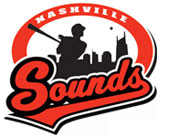 Colorado Springs, Colorado – The Nashville Sounds never held a lead in either game of the team's doubleheader against the Colorado Springs Sky Sox at Security Service Field Saturday evening, losing the opener 6-2 and the nightcap by a 4-2 margin.
In game one, the Sky Sox snapped a seven-game skid by hanging a 6-2 loss on the Sounds.
Colorado Springs right-hander Chris Volstad (6-4) worked a seven-inning complete game to earn his first victory since June. The veteran authored a quality start, holding the Sounds to two runs on seven hits in his seven frames, and helped his own cause with a go-ahead RBI single in the contest.
Shortstop Blake Davis went 3-for-3 for Nashville in the opening contest.
The Sky Sox jumped out to a 2-0 lead against PCL ERA leader Johnny Hellweg in the bottom of the second inning.
After Ryan Wheeler led off the frame by scorching a double to the center field wall, Jordan Pacheco sliced an RBI triple down the first base line into the right field corner to plate the afternoon's first run. Ben Paulsen (3-for-3) followed with a run-scoring bloop single to shallow center that doubled the home team's lead.
Kent Matthes followed with a double to put runners on second and third with still no outs, but Hellweg escaped the frame without further damage by striking out former Sound Hernan Iribarren then inducing a comebacker pop-up double play from Volstad on a botched suicide squeeze bunt attempt.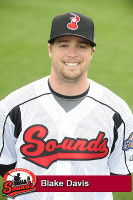 Nashville evened the contest at 2-2 in the top of the third with a pair of runs against Volstad. Josh Prince drew an inning-opening walk and moved to second on a Blake Davis single before both runners were moved up a base on a Hellweg sacrifice bunt. Kentrail Davis followed with a run-scoring groundout before red-hot Eugenio Velez extended his hitting streak to seven games with a game-tying double into the left field corner. The infielder is hitting .440 (11-for-25) during his hit streak.
Volstad helped his own cause in the fourth, putting the Sky Sox back in front with a two-out RBI single through the right side of the infield against Hellweg. Paulsen scored on the knock after reaching on a one-out single during the frame. Colorado Springs extended its lead to 4-2 when Tim Wheeler followed with a bloop RBI single to left.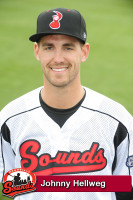 The Sky Sox continued to add to the lead in the fifth, plating two more runs against Hellweg to make it a 6-2 contest. Paulsen contributed his second RBI single of the day before the Nashville right-hander misfired to first on a pickoff attempt to allow the second run of the frame to score in unearned fashion.
Hellweg (10-5) took his first Triple-A loss in 13 outings, dating back to May 5th, after being touched for a season high-tying six runs on a season-high 10 hits in his five frames of action. His league-leading ERA jumped from 2.44 to 2.75 following the outing.
In game two, the Sounds never recovered from a four-run first inning put up by the Sky Sox, eventually losing 4-2 despite a 7th-inning rally.
Sounds starting pitcher Aaron Laffey (5-6) loaded the bases with no outs in the first to set the table for the Sky Sox big four-run inning.
The Sox got their first pair of runs on groundouts, while Kent Matthes' double to the right-field corner and a single through the infield by Jose Gonzalez each scored a run.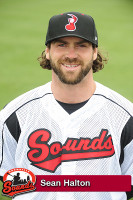 Laffey was charged with the loss, his sixth, for one inning of work in which he allowed three hits and one walk. Laffey's start is the shortest made by a Sound this season, previously Tyler Thornburg held that mark with a 2 1/3 outing in May.
Reliever Tim Dillard picked up in the second inning for Nashville to work two scoreless frames. He picked up one strikeout on the night to take sole possession of third place on the Sounds career strikeouts list with 322 all-time.
Reliever Dustin Molleken made his Sounds debut a good one, working two 1-2-3 innings in the middle of the game and recording three strikeouts.
Michael Olmsted also saw work from the bullpen for Nashville. The right-hander had a runner on third with no outs, but retired the side with two strikeouts and a fly ball to center.
The Sounds plated a pair of runs in the top of the seventh inning as Sean Halton knocked a double down the left-field line that scored Eugenio Velez, who reached base on balls. Hunter Morris followed with a single into right field, scoring Halton.
Nashville had other chances in the game, loading the bases with two outs in the fourth and having a runner on second with no outs in the fifth, but came up empty on both occasions. The team left a total of 10 runners on base.
Velez, 2-for-2, extended his hit streak to eight games and Blake Davis, 2-for-3, brought his streak to five consecutive games for the third time this season. Davis finished the doubleheader 5-for-6 and is 7-for-10 in the series.
The teams will wrap up the four-game set with a 6:05pm CT finale on Sunday. Right-hander Jimmy Nelson (2-4, 3.70) will toe the slab for the Sounds to face Colorado Springs right-hander Armando Galarraga (0-1, 9.39). Baseball returns to Greer Stadium on Friday, August 16th, for Elvis Night and postgame fireworks.
Box Score – Game 1
Colorado Springs Sky Sox (57-60) 6, Nashville Sounds (47-73) 2
August 10th, 2013
1
2
3
4
5
6
7
8
9
R
H
E
Nashville Sounds
0
0
2
0
0
0
0
x
x
2
7
2
Colorado Springs Sky Sox
0
2
0
2
2
0
x
x
x
6
10
0
a-Singled for Webb in the 7th.
BATTING
2B: Velez (5, Volstad).
TB: Velez 2; Halton; Davis, B 3; Morris, H; Statia.
RBI: Davis, Ke (6), Velez (6).
2-out RBI: Velez.
Runners left in scoring position, 2 out: Morris, H; Halton.
SAC: Hellweg 2.
GIDP: Diaz, R, Davis, Ke.
Team RISP: 2-for-7.
Team LOB: 5.FIELDING
E: Prince (10, fielding), Hellweg (2, pickoff).
Outfield assists: Prince (Paulsen at home).
DP: 3 (Velez-Davis, B-Morris, H, Hellweg-Davis, B, Prince-Diaz, R).
BATTING
2B: Wheeler, R (26, Hellweg), Matthes (3, Hellweg).
3B: Pacheco (1, Hellweg).
TB: Paulsen 3; Volstad; Pacheco 3; Wheeler, T; Wheeler, R 3; Iribarren; Matthes 2.
RBI: Pacheco (2), Paulsen 2 (64), Volstad (1), Wheeler, T (34).
2-out RBI: Volstad; Wheeler, T.
Runners left in scoring position, 2 out: Wheeler, R; Rutledge 2.
GIDP: Brignac.
Team RISP: 5-for-10.
Team LOB: 4.FIELDING
DP: 2 (Rutledge-Brignac-Paulsen, Rutledge-Paulsen).
Nashville Sounds
Player
IP
H
R
ER
BB
SO
HR
ERA
Johnny Hellweg (L, 10-5)
5.0
10
6
5
3
2
0
2.75
Travis Webb
1.0
0
0
0
0
1
0
6.85
Totals
6.0
10
6
5
3
3
0
4.37
Colorado Springs Sky Sox
Player
IP
H
R
ER
BB
SO
HR
ERA
Chris Volstad (W, 6-4)
7.0
7
2
2
2
2
0
4.79
Totals
7.0
7
2
2
2
2
0
5.37
Pitches-strikes: Hellweg 94-51, Webb 13-11, Volstad 83-56.
Groundouts-flyouts: Hellweg 3-4, Webb 1-0, Volstad 16-1.
Batters faced: Hellweg 25, Webb 3, Volstad 28.
Umpires: HP: Tom Woodring. 1B: Gerard Ascani. 3B: Joel Hospodka.
Weather: 74 degrees, sunny.
Wind: 8 mph, Varies.
T: 1:55.
Venue: Security Service Field.
August 10, 2013
Box Score – Game 2
Colorado Springs Sky Sox 4, Nashville Sounds 2
August 10th, 2013
1
2
3
4
5
6
7
8
9
R
H
E
Nashville Sounds
0
0
0
0
0
0
2
x
x
2
8
0
Colorado Springs Sky Sox
4
0
0
0
0
0
x
x
x
4
6
0
a-Singled for Dillard in the 4th. b-Flied out for Olmsted in the 7th.
BATTING
2B: Halton (26, Kensing).
TB: Velez 2; Chavez, O; Halton 2; Davis, B 2; Morris, H; Davis, Ke.
RBI: Halton (40), Morris, H (62).
Runners left in scoring position, 2 out: Lalli 2; Morris, H; Davis, Ke 2; Chavez, O.
Team RISP: 2-for-12.
Team LOB: 10.
a-Grounded out for Riordan in the 4th.
BATTING
2B: Matthes (4, Laffey).
TB: Gonzalez, Jo; Pacheco 2; Matthes 2; Nady 2.
RBI: Wheeler, R (69), Nady (54), Matthes (14), Gonzalez, Jo (9).
2-out RBI: Matthes; Gonzalez, Jo.
Runners left in scoring position, 2 out: Gonzalez, Jo; Garcia, A.
Team RISP: 2-for-8.
Team LOB: 4.BASERUNNING
SB: Pacheco (2, 2nd base off Laffey/Lalli), Nady 2 (4, 2nd base off Dillard/Lalli, 2nd base off Olmsted/Lalli).
WP: Olmsted, Scahill, Takahashi.
HBP: Wheeler, T (by Laffey).
Pitches-strikes: Laffey 37-19, Dillard 32-18, Molleken 26-16, Olmsted 20-15, Riordan 70-45, Scahill 24-15, Takahashi 4-3, Kensing 24-16.
Groundouts-flyouts: Laffey 2-0, Dillard 5-0, Molleken 1-1, Olmsted 0-1, Riordan 6-2, Scahill 3-1, Takahashi 0-0, Kensing 0-1.
Batters faced: Laffey 8, Dillard 8, Molleken 6, Olmsted 4, Riordan 19, Scahill 7, Takahashi 1, Kensing 6.
Inherited runners-scored: Takahashi 1-0.
Umpires: HP: Gerard Ascani. 1B: Joel Hospodka. 3B: Tom Woodring.
Weather: 75 degrees, cloudy.
Wind: 9 mph, Varies.
T: 2:29.
Att: 5,327.
Venue: Security Service Field.
August 10, 2013