Clarksville, TN – Austin Peay State University women's soccer team kicks off the 2013 regular season with a pair of road matches against Southern Conference opponents Chattanooga (6:00pm CT, Friday) and Appalachian State (1:00pm CT, Sunday).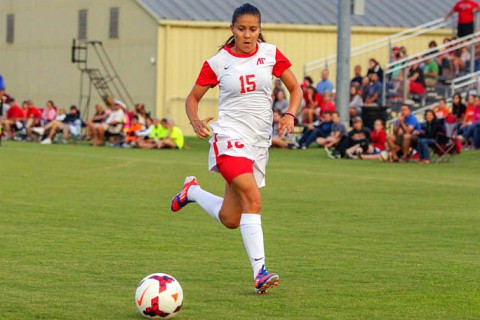 Austin Peay enters the regular season with high hopes after advancing to the Ohio Valley Conference Tournament final for the second time in three years to cap off a successful 2012 campaign.
With a star-laden senior class hungry for a ring, head coach Kelley Guth's charges are eager to get on the field and prove to the OVC that they are a force to be reckoned with.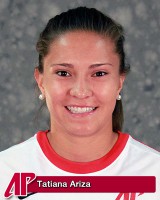 Chattanooga finished 3-13-1 last season, including a 4-1 beating at the hands of Austin Peay. Second-leading scorer Hannah Wyatt returns (one goal, five assists in 2012), but only seven of the 16 goals scored by the Mocs in 2012 returned to the Scenic City.
The Mountaineers were picked to finish in the middle of the pack in the SoCon after placing fourth in 2012. Leading scorer Julia Holz (eight goals, two assists) returns, and she will be flanked by Samantha Childress, who found the back of the net five times in 2012.
The Lady Govs own winning records against both opening-weekend foes, with a 4-3-0 mark against Chattanooga and 1-0-0 tab against Appalachian State.
Last Time Against This Weekend's Opponents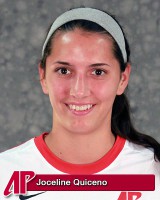 Austin Peay knocked off Appalachian State, 3-1, in the 2012 home opener thank to goals from both Andy and Joceline Quiceno plus an Emily Perkins tally. After stalling much of the first half, the Lady Govs offense exploded for 11 shots and all three goals in the game's final 45 minutes.
Chattanooga was the final match of Austin Peay's season-opening four-match homestand in 2012, and the Lady Govs closed with a flourish, dispatching the Mocs 4-1. Andy Quiceno and Perkins again found the back of the net, while Tatiana Ariza netted the first two of what would be 12 goals during her junior campaign.
Keep an eye on…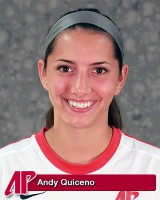 A win against Chattanooga would be Austin Peay's fourth straight against the Mocs.
With two points, senior Tatiana Ariza would become the fourth women's soccer player in OVC history to amass 100 career points.
With one point, senior Andy Quiceno would take sole possession of third place on Austin Peay's all-time points list, breaking a tie with
Emily Perkins (2011-12). She and her sister Joceline are tied for eighth all-time in goals scored with 10 apiece.
With one point, senior Natalia Ariza would tie Jessica Hosse (2004-07) for fifth place on the all-time list with 33 points. She remains one goal away from tying Erica Dengler (2003-06) and Kaylee Yago (2002-05).
Senior defender Emily Kink needs one more assist to tie Dengler and Yago for 10th all-time.
Lady Govs Online
Be sure to follow all the Lady Govs action at LetsGoPeay.com, and check them out on Twitter (@AustinPeaySocr) and by liking the Austin Peay Women's Soccer Official Page on Facebook.