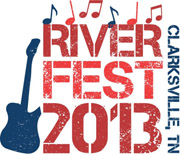 Clarksville, TN – On Saturday, September 7th Country recording artist Phil Vassar will take the stage at Clarksville's Riverfest Festival at 9:00pm as the headlining performer on the Miller Lite Stage. The concert is free and open to the public.
Phil Vassar career has seen the release of eight albums, two ASCAP Songwriter of the Year trophies, Billboard Country Songwriter of the Year, countless hits as a singer and songwriter and a mantle full of awards and the launch of his own Rodeowave Entertainment label continues to expand and evolve.
As a singer/songwriter, Phil has hit the Top 5 seven times with songs like "Carlene," "Last Day of My Life" and "American Child" and topped the charts with "In A Real Love" and the perennial favorite "Just Another Day in Paradise." Known as one of Nashville's top tunesmiths, his songs other artists have taken to #1 include "My Next Thirty Years" by Tim McGraw, "She's Right On The Money" by Alan Jackson, and Jo Dee Messina's "Bye, Bye" and "I'm Alright." New artist David Nail had a hit with Phil's "The Sound of a Million Dreams," which Billboard named the #1 song in their Top 10 Country Songs of 2012.
"We are so excited to feature Phil Vassar and Sidewalk Prophets at Riverfest this year," said Jennifer Byard, Festival Director. "We love being able to bring great musical acts to the Clarksville community, especially at no charge to festival-goers."
For more information about Phil Vassar visit his website at www.philvassar.com
About Riverfest
Riverfest will be held September 6th-7th, 2013 along the banks of the Cumberland River at McGregor Park, located at 640 North Riverside Drive. Admission and entertainment at the Festival are free and open to the public.
More announcements will be made soon, as new events and entertainment are finalized and will be available on the Festival website, www.clarksvilleriverfest.com.