Murfreesboro, TN – Austin Peay State University's volleyball had an error-prone outing and suffered a three-set sweep (18-25, 23-25, 16-25) at the hands of UAB in a Saturday morning match at the MT Invitational.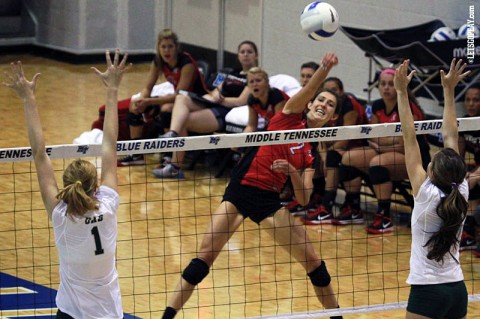 Austin Peay (2-5) could not overcome its own errors throughout the match. The Lady Govs finished with 34 errors in the contest, including 20 attack errors. UAB maintained a cleaner outing with 19 errors, including only seven on attack.
Despite all the miscues, neither team was able to piece together long runs in the opening two sets, with each team stringing together a three-point run only three times each. UAB had two such runs in the opening set, both in the latter stages. A four-point run – the longest by either team before the break – pushed its lead to 22-16 en route to a 25-18 win.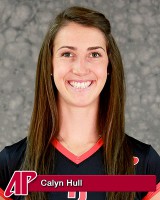 The second set saw UAB use a three-point run to build a four-point lead, 17-13. Austin Peay would use two of its three-point runs to nearly pull back even, 23-22, but could not level the set and lost 25-23.
UAB (5-1) came out of the break and pieced together a match-best five-point run and later added a four-point burst to build a 12-5 lead. Austin Peay only won back-to-back points four times in the set as UAB pulled away for the match-clinching 25-16 victory.
"We were right there in the first two sets," said Lady Govs head coach Taylor Mott. "We just had errors at the wrong times and it cost us. I believe we didn't come and match UAB's intensity to start the third set and we weren't able to dig out of that early hole. We have to play more consistently in all phases of our game. We have a short turnaround to get ready for a talented Middle Tennessee squad."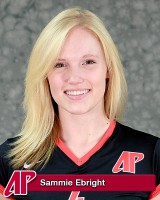 Cayln Hull followed up her career-best 25-kill effort in Friday's afternoon match with a team-best 13 kills. Sammie Ebright chipped in nine kills and a team-best .438 attack percentage. Austin Peay recorded 39 kills but with the 20 errors posted a .218 attack percentage.
Sam Skinner led UAB with 16 kills and a .536 attack percentage, committing only one attack error. The Blazers scored 42 kills and eight blocks.
Austin Peay closes its stay at the MT Invitational with a 3:00pm contest against host Middle Tennessee.
Box Score
UAB vs Austin Peay
(September 7th, 2013 at Murfreesboro, TN)
UAB
ATTACK
SET
SERVE
SRV
DEF
BLOCK
GEN
##
Player
SP
K
E
TA
PCT
A
SA
SE
RE
DIG
BS
BA
BE
BHE
Points

1

RISHELL, Sara

3

9

2

16

.438

1

0

0

0

0

0

5

0

0

11.5

3

HOWARD, Becca

3

1

0

1

1.000

36

1

0

0

3

1

2

0

0

4.0

8

SCHROER, Emma

1

0

0

0

.000

0

0

0

0

0

0

0

0

0

0.0

21

HIRINI, Kiriana

3

7

1

15

.400

0

1

0

0

0

1

1

0

0

9.5

23

THOMAS, Bethanie

3

7

1

17

.353

1

1

0

2

3

0

2

1

0

9.0

33

SKINNER, Sam

3

16

1

28

.536

0

0

3

1

3

0

0

0

0

16.0

4

FAIRBANKS, Rachel

3

0

0

1

.000

2

1

1

1

10

0

0

0

0

1.0

9

SLAUGHTER, Ally

3

2

2

9

.000

0

1

2

0

1

0

2

1

0

4.0

12

MCCALLUM, Mariah

2

0

0

0

.000

0

0

0

0

2

0

0

0

0

0.0

Totals

3

42

7

87

.402

40

5

6

4

22

2

12

2

0

55.0

TOTAL TEAM BLOCKS: 8.0
TEAM ATTACK BY SET
Set
K
E
TA
Pct
Sideout
Pct

1

14

1

27

.481

12-18

66%

2

14

2

28

.429

18-24

75%

3

14

4

32

.312

12-16

75%

42-58

72%

SET SCORES
1
2
3
TEAM RECORDS

UAB

(3)

25

25

25

6-1

Austin Peay

(0)

18

23

16

2-5
Austin Peay
ATTACK
SET
SERVE
SRV
DEF
BLOCK
GEN
##
Player
SP
K
E
TA
PCT
A
SA
SE
RE
DIG
BS
BA
BE
BHE
Points

1

FIELDS, Cami

3

2

1

4

.250

31

0

0

0

8

0

1

0

3

2.5

2

HULL, Calyn

3

13

5

29

.276

1

1

0

2

4

1

0

0

0

15.0

4

EBRIGHT, Sammie

3

9

2

16

.438

1

2

2

0

3

0

1

0

0

11.5

10

STROTHER, Samantha

3

6

2

15

.267

0

0

0

0

1

0

0

1

0

6.0

12

HENDERSON, Lauren

3

4

5

10

-.100

3

0

1

0

0

0

2

1

0

5.0

15

PLYBON, Hillary

3

5

5

12

.000

0

0

0

0

0

1

1

0

0

6.5

3

ADAMS, April

3

0

0

0

.000

0

0

0

1

1

0

0

0

0

0.0

5

BALES, Lizzy

3

0

0

0

.000

1

1

0

1

6

0

0

0

0

1.0

7

MARSELLIS, Aubrey

2

0

0

1

.000

1

0

0

0

0

0

1

0

0

0.5

13

LITCHFIELD, Syd

3

0

0

0

.000

0

0

1

1

5

0

0

0

0

0.0

Totals

3

39

20

87

.218

38

4

4

5

28

2

6

2

3

48.0

TOTAL TEAM BLOCKS: 5.0
TEAM ATTACK BY SET
Set
K
E
TA
Pct
Sideout
Pct

1

14

6

29

.276

12-25

47%

2

14

8

30

.200

17-24

70%

3

11

6

28

.179

12-25

47%

41-74

55%

Site: Murfreesboro, Tenn. (Alumni Memorial Gym)
Date: Sep 07, 2013 Attend: 103 Time: 1:18
Referees: Mic Huffman, James Kirkpatrick


| | | | | |
| --- | --- | --- | --- | --- |
| | 1 | 2 | 3 | Total |
| Tie scores | 10 | 2 | 1 | 13 |
| Lead changes | 4 | 0 | 1 | 5 |