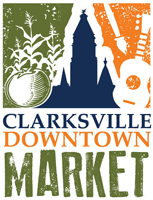 Clarksville, TN – American Farmland Trust's summer long celebration of farmers markets has ended and the Clarksville Downtown Market has been named as one of the Top 100 Most Celebrated Farmers Markets in America for 2013. The Clarksville Downtown Market was also recognized as the top three farmers markets in Tennessee.
The I Love My Farmers Market Celebration encouraged consumers to pledge to spend $10.00 at their local farmers market. Each pledge honored our nation's hardworking farmers, our community, and the Clarksville Downtown Market. This year's celebration helped put more than $250,000 directly into the pockets of family farmers.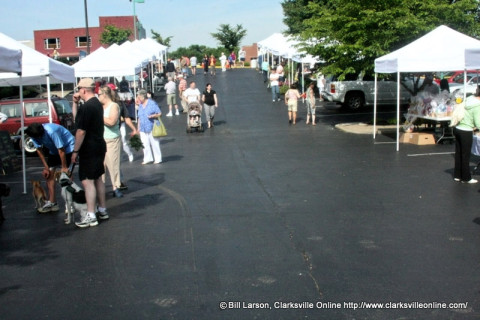 "The I Love My Farmers Market Celebration was about celebrating the unique qualities of farmers markets throughout the nation and the important role that these markets play in keeping family farmers on the land," said American Farmland Trust Vice President of External Affairs, Susan Sink.
Not only did the pledges help the Clarksville Downtown Market earn national recognition — it also helped our community. For every $10.00 spent on local food, as much as $7.80 is re-spent in the local community, supporting local jobs and businesses. Also, the farmer takes home almost $8.00-$9.00 instead of the $1.58 that farmers and ranchers receive when food is purchased through a retail market. (See www.farmland.org/infographic for more fun facts!)
American Farmland Trust has provided every winner a badge and No Farms No Food® materials to highlight the role farmers markets play in keeping farmers on their land. Join us for the rest of the season at the Clarksville Downtown Market: One Public Square, 8:00am to 1:00pm, Saturdays through October 19th.
I Love My Farmers Market Celebration is part of American Farmland Trust's No Farms No Food® Campaign. The celebration marks the fifth year that American Farmland Trust has hosted a summer-long event to honor our nation's hardworking family farmers and to raise the national awareness about our bountiful farmers markets.
About American Farmland Trust
American Farmland Trust is the only national conservation organization dedicated to protecting farmland, promoting sound farming practices, and keeping farmers on the land. Since its founding in 1980, AFT has helped permanently protect more than 5 million of acres of farmland.
AFT's national office is located in Washington, D.C. Phone: 800.431.1499.
For more information, visit www.farmland.org.