Clarksville, TN – Austin Peay State University's softball team was only able to get one of its scheduled two games in with Volunteer State Community College before the rains came, October 2nd at Cheryl Holt Field, but the Lady Govs made the most of the game they did get in by collecting 13 hits in an 8-2 victory.
With the win, the Lady Govs finish their fall schedule with a perfect 6-0 mark in which they outscored their opponents 54 to 11.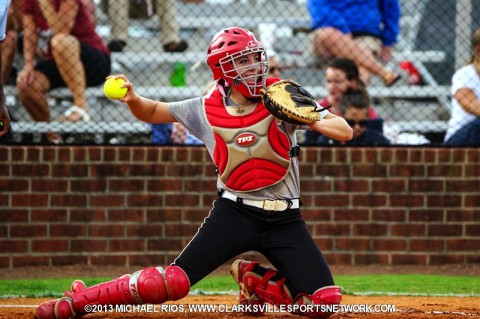 "It's always a good feeling to come away with a win," Austin Peay coach Stephanie Paris said. "(Brianna) Bartuccio gave us a good outing on the mound and we had some timely hitting, especially in the sixth inning when Vol State had scored a couple of runs to get back into the game."
In fact, Austin Peay had its best inning of the game in the bottom of the sixth inning after the Lady Pioneers had cut the Austin Peay lead down to 4-2.
Sophomore Niya Sparks would open the inning by drawing a walk and an out later moved to second base on a single by sophomore Mel Pavel.
Both would move up a base on a wild pitch, then score on a double by sophomore Vinchenza DiBenedetto to make it 6-2.
Freshman Fatima Larios would follow with an RBI triple, to drive in DiBenedetto, and scored the Lady Govs final run of the day on a single by senior Amanda De Vries.
Austin Peay was up 4-0, when Vol State score its two run of the came in the top of the sixth inning, with Taylor Gullett driving in one run with a double and Sara Jane Barton the other with a single.
The Lady Govs had opened the game with two runs in the bottom of the second inning – both coming after two outs – with De Vries driving in DiBenedetto with a single and freshman Rikki Arkansas driving in Larios with a single.
Austin Peay would add two more runs in the third, with junior Laurel Burroughs tripling in fellow junior Christina Beam and scoring latter in the inning on a double by Bartuccio.
Overall, nine different Lady Govs collected hits, including two each from Beam, Bartuccio, De Vries and DiBenedetto.
Bartuccio picked up the win, her third of the fall, giving up just three hits and a walk, while striking out two.
With their fall games completed, the Lady Govs will move to individual workouts, with their regular-season opener scheduled for February 7th, 2014 at the University of South Alabama Tournament.
"We're in a much better place than we were at this time last year," Paris said. "Going into individuals will be nice because we can really specific with some of our players and tweak some things and just work to get better over the winter and get ready for spring."
Photo Gallery