Montgomery County, TN – Three were arrested early this morning in connection with recent burglaries in the Shady Grove Road, Oak Plains Road and Highway 12 areas.
Michael Deason, 27, who gave a Cumberland Manor address, Ryan Mason, 24, who gave a Laurelwood Trail address and Caitlin Gupton, 24, who gave a Chapmansboro, Tennessee address were all arrested after investigators were led to where they had been taking stolen items in an area hotel room.
Deason and Mason were charged with two counts of aggravated burglary, and their bond was set at $150,000. Gupton was charged with criminal facilitation of a felony and her bond was set at $75,000.
A break in the investigation came when investigators learned of an individual who had purchased some of the items in the burglaries, including firearms. Investigators were told that Mason had sold the items, and he was staying at a local hotel, said Sgt. Steve Heise.
Investigators found out which hotel room he was in, secured an arrest warrant for Mason and conducted surveillance near the room.
"We saw them drive up in the vehicle that was identified in the burglaries," Heise said. "They began carrying electronics into the room, and guns concealed in a pair of pants."
Sheriff's Office Investigators notified Clarksville Police and MCSO deputies of the situation, and officers quickly responded to block off the area.
"We definitely have to thank Clarksville Police for their quick response," Heise said.
When they knocked on the door, Mason jumped out of a second story window, threw the guns in a dumpster and attempted to run, but was apprehended by Sheriff's deputies.
After obtaining a search warrant for the room, they found several items from burglaries that occurred in Clarksville and Montgomery and Cheatham counties.
Investigators Billy Wall, Jeff Morlock and Fred Smith are still investigating the cases, and more charges are pending for the three. Investigators are also working to track down the owners of the stolen items and return them to the victims.
Ryan Mason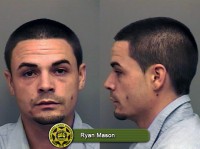 Name: Ryan Mason
Date of Birth: 6/ 6/ 89
Gender: M
Race: W
Address: 3409 Laurelwood Trail, Clarksville, TN
Arresting Officer: Steve Heise
Charged With: Two Counts of Aggravated Burglary
Booked Into: Montgomery County Jail
Bond: $150,000.00
Michael Deason
Name: Michael Deason
Date of Birth: 1/ 12/ 86
Gender: M
Race: W
Address: 201 Cumberland Manor, Clarksville, TN
Arresting Officer: William Wall
Charged With: Two Counts of Aggravated Burglary
Booked Into: Montgomery County Jail
Bond: $150,000.00
Caitlin Gupton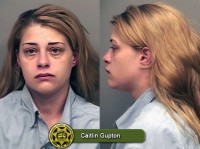 Name: Caitlin Gupton
Date of Birth: 11/ 8/ 88
Gender: F
Race: W
Address: 1058 Jim Reed Road, Chapmansboro, TN
Arresting Officer: William Wall
Charged With: Criminal Responsiblity / Facilitation Felony
Booked Into: Montgomery County Jail
Bond: $75,000.00