Clarksville, TN – The Clarksville Police Department arrested Joey Alexander Johnson, forty two years of age, on nine counts of child rape, one count of Especially Aggravated Sexual Exploitation, and one count Solicitation of Sexual Exploitation of a minor.
Joey Johnson is currently on the sex offender registry for Rape 2nd degree out of Madisonville Kentucky from a case in 1997.
The child victim came forth and disclosed that the sexual abuse started when she was (6) six years of age and continued over several years.
The Special Operations Child Advocacy Unit conducted the investigation. Detective Tyler Barrett was in charge of the investigation.
The Clarksville Police Department has an additional ongoing investigation on Joey Johnson.
Anyone with information that might help the investigation please, call Detective Tyler Barrett at 931.648.0656 ext. 6584
Joey Johnson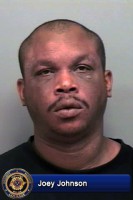 Name: Joey Alexander Johnson
Date of Birth: 6/ 17/ 71
Gender: M
Race: B
Given Address: 550 Johnson Street, Clarksville, TN
Arresting Officer: Christina Gilliard
Charged With: Nine Counts of Child Rape, Two Counts of Sexual Exploitation of a Minor and One Count of Especially Aggravated Sexual Exploitation of a Minor.
Booked Into: Montgomery County Jail
Bond: $50,000