Clarksville, TN – On Tuesday,  the Customs House Museum cut the ribbon on its newest permanent exhibit, "Becoming Clarksville: Honoring Legacies of Leadership."
Through the prism of leadership, the exhibit explores the history of Clarksville and Montgomery County, focusing on the stories of individuals who helped shape the city, featuring unique interactive and video elements. Becoming Clarksville also serves as a legacy for the Clarksville Jaycees, remembering its history and contributions to the people of Clarksville.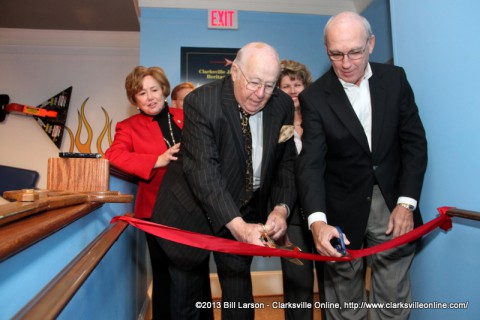 Jim Durrett, the chairman of the Board of Trustees for the customs house Museum kicked things off, "Anytime we get to open a new permanent exhibit or dedicate a major gallery, it is a special time. And tonight we get to do both of those. Tonight we get to celebrate opening a new permanent exhibit Becoming Clarksville, celebrating legacies of leadership. And dedicate a major gallery, Heritage Hall.."
He was followed by Montgomery County Mayor Carolyn Bowers.  "What an honor it is to be here this evening to see this new gallery open,"  she said.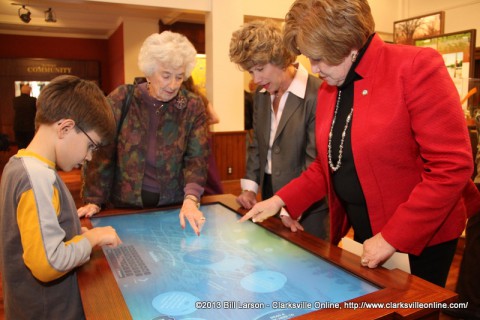 Bowers then recognized the contributions made by the former members of the Clarksville Jaycees.
"Thank you so much to the Jaycees organization and the money that is been donated to the museum for this new gallery.
Speaking of the exhibit and hall, Bowers said, "It's wonderful and I think when you see it, you're going to be so proud of it. I know the Jaycee members will be, but I think the entire community will be very proud of it because it honors the leaders of our past. It tells everybody who sees it about the legacy of the leaders the bright Montgomery County forward to be where it is today. It also will help those coming along to know what brought us here and why Clarksville-Montgomery County is what it is today. We have a lot to be proud of and I know that you'll see that as you enjoy the exhibits."
Clarksville Mayor Kim McMillan, spoke more in depth about the Jaycee's:
What a pleasure it is to be here. We were here once before when we started the process of creating this wonderful exhibit, and now we're here at the culmination where we can actually see the work that has been done.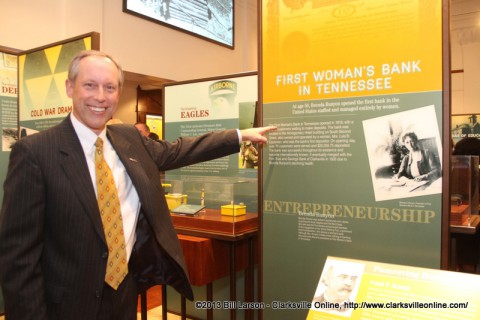 And like Mayor Bowers I would like to extend a special gratitude to the Clarksville Jaycees organization. That organization is the reason that were here today. They stood for really promoting leadership in our community and across our state. That is what they were really all about.
I know they have a number of awards that they gave out throughout their 10 year to recognize leaders in all kinds of different endeavors and fields. I was honored to be given the outstanding young leader award which they gave to a young person; he had to be under 40 so obviously I could when it now but at the time I was under 40 and did win that award.
What it did was recognize individuals young leaders who really wanted to aspire, to give back and do good things for our community. That's what the Jaycees are all about, McMillan said.
She continued, "That's what this exhibit is all about, and that's what you'll see when you come in here; the Jaycees were about promoting leadership at all levels both young and old and recognizing our past and recognizing our future. So we owe the Jaycees addenda gratitude for what they have done to make this possible! So thank you Jaycees, thank you to the museum for recognizing that this can be done here. I think it's a wonderful exhibit, I think you'll want to tell your friends and family and everyone that they need to come and see it."
Wayne Wilkerson and Evans Harvell spoke on behalf of the Jaycees members.
Wilkerson was up first.
It is a privilege for me to welcome you on behalf of the Clarksville Jaycees, the Clarksville Jaycettes, the Clarksville Jaycees foundation. These organizations literally donated hundreds of thousands of man-hours, helping to improve our community, and arguably raised over millions of dollars in their 65 years existence to donate to our wonderful community, and to make it better.
Most of you who were not members of the Jaycees would probably look at the Jaycees organization as a civic organization or club, but actually it was a leadership training organization. And because of the leaders over the years we were able to have an asset that generated the money to produce this, what I think is a wonderful and certainly a lasting exhibit.
As you go through the exhibit you have an opportunity to see static displays as well as interactive ones. And in that display will be the Jaycee Creed. And I would ask you to please take time to read that. It is a wonderful document and take that to heart.
He was followed by Evans Harvill.
I don't know what all Wayne has said, but for me the Jaycees and the loss of the Jaycees was a tremendous loss to Clarksville. It was the young man's organization when I joined it back in the 1950s. It was an organization that all of the young men; business, bankers, and blue-collar across-the-board wanted to join.
Our motto was leadership training, community service. When I joined the Jaycees the project was raising money for street signs and Clarksville. At the time there were no street designations in the City of Clarksville. We bought the fairgrounds to do horse shows, which is now become the Austin Peay baseball diamond.
If you look back at the people who have been in the Jaycees and down to the roster, it's a Who's Who of young men; and the beauty of it is that it was 18 to 36, when you reached age 36 you got out. So he didn't have any old codgers like me a Dudley Griffin trying to tell the young boys how to do it! They had to do it on their own and they did, they did.
We had an outstanding chapter where I met some of my greatest friends, and the most fun was through that. The organization of the Jaycees was the form and format and other organizations which I've had the privilege to be in and to chair.
I can't think of any group of people with whom I could have been more proud to have been affiliated with than the Jaycees.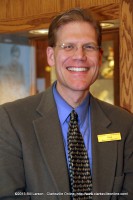 Alan Robison  Executive Director of the Customs House Museum sees this as a step towards the future.
I've always thought about this phrase as we've gone through this year-long process, since the time of the announcement that we were going to do this.
It's a phrase that I first heard from some of my coaches as a youth which is "Making things happen" they told me, "Alan if you want something, you got to make it happen!" During this whole exhibit design and build process this phrase has come back to me, time and time again, because there are just so many people that made this happen. And predominantly as has been said before me, Clarksville Jaycees are first on that list.
They shared our vision of making a new focused history exhibit for this community. And it is through the prism of leadership, and we talk about those leaders of our past that made us who we are. From that we're very grateful to the Jaycees, and their wonderful partnership to make this happen.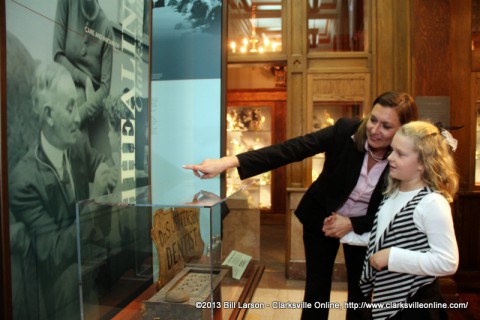 He then spoke about the Museum's 30 year history and their Capital Campaign.
It comes at a watershed moment for this museum. You see, we are celebrating 30 years of our operation, of iur excellent operation that this museum is. What started 30 years ago as a small historical Museum in this the 1898 customs house Museum by a dedicated group of people that had a vision for what we need, and what we can be, and who we have been.
It has now taken root.  We've expanded as you can see in these galleries here, and we are a major regional Museum for our area. And we have a lot to be proud of. There's a lot of people in this room that had made this happen and for them we're are also very very grateful.
This is 30 years we're starting an anniversary campaign, the purpose of which is to bring engaging, educational, innovative exhibit experiences to all of our permanent gallery spaces. In addition to what we have been able to achieve through Heritage Hall.
Our plans for the next 30 years begin with what we have done in this Heritage Hall.
He then thanked the Clarksville Jaycees.
As was said earlier the Clarksville Jaycees existed to provide leadership in its members, and they excelled at that. In our museum they led one more time and setting the marker for this museum could and should be.
What I challenge you all now is to follow their lead in helping us making it happen for the rest of our museum through our capital campaign. And by doing so we have placed in our lobby renderings of the capital campaigns, and the vision of the future of this museum is on display for you to see. And I challenge you all to take it, own it, and to join us in making this happen for this museum.
It was then time to cut the ribbon, and tour the new facility.
I got a moment to speak with Robison after the ribbon cutting, "I am absolutely stunned at the reception. All the hard work was well worth the effort to see it come to fruition the hours we spent the meetings everything to culminate in this it makes everything so worth it and energizes you to take the next steps that were looking to accomplish for this museum. It validates will looking to do to improve what our museum needs for the future.
Were embarking on the anniversary campaign to provide the same attention that we gave to heritage Hall to explorers gallery, and our memory lane gallery. Well-to-do focus math and science exhibits for the kids, and interactive experience and taking our history story into the galleries in an interactive innovative manner that were able to do here.
I asked him what he hopes that people will take away from a visit to the exhibit, and he replied, "I hope that people will discover where we are, who we are as a people, and learn about the leaders who made Clarksville what it is."
He continued, "It's all on display here. If you have one place to go in this town to find out who we are, why we're here, you'll have to come to the Customs House Museum, and you'll have to come to becoming Clarksville to know why we're here and who we are as a people and that's what this does. It also brings people in and gives them the opportunity to tell us where we need to go in the future. It challenges our guest to answer that question where do we need to go next.
Robison ended with an open invitation to the residents of Clarksville-Montgomery County; "I hope to see you here."
Photo Gallery
About the Customs House Museum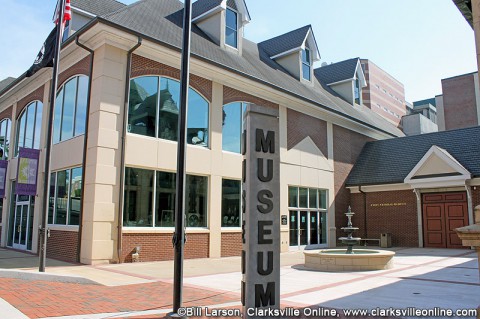 Located in the heart of historic downtown Clarksville, Tennessee, the Customs House Museum and Cultural Center is the State's second largest general museum. With over 35,000 square feet of the region's best hands-on activities and special events…people of all ages agree – the Customs House Museum is well worth the stop!
The Explorer's Gallery is packed with fun, learning and fantasy in Aunt Alice's Attic, McGregor's Market and kitchen, and of course – the Bubble Cave! Finally, get "all aboard" to see our fantastic model trains. Our volunteer engineers "ride the rails" every Sunday afternoon from 1:00pm to 4:00pm.
Regular museum hours are 10:00am to 5:00pm Tuesday through Saturday, and 1:00pm to 5:00pm on Sundays. Adult admission is $7.00, Sr. Citizens and College ID $5.00, Ages 6 to 18 $3.00, and under six years and Museum members are free.
The Customs House Museum is located at 200 South Second Street. For more information, call 931.648.5780 or visit their website at www.customshousemuseum.org
Map