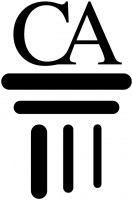 Clarksville, TN – Clarksville Academy, a PK-12 college preparatory school located in downtown Clarksville, Tennessee has just been named an Apple Distinguished School. CA has been named a 2013-2015 Apple Distinguished School in recognition of the innovation, leadership and educational excellence of its 1 to 1 MacBook/ iPad program.
Head of School Kay Drew formally announced the designation during a State of the School Address at a recent Blue and Gold Breakfast, and again during an all faculty surprise celebration.
The Apple Distinguished Program designation is reserved for schools that demonstrate an innovative and compelling learning environment that engages students and provides tangible evidence of academic accomplishment.
"Receiving the Apple Distinguished Program Award is the ultimate recognition for the dedicated leadership in Technology Education provided by our Technology Director, Cara Miller. Cara has built a unique and strong support system of an iInfuser Program Specialist Piper Bell, Lower School Technology Foundation Instructor, and an eight-member iTeam. It is a recognition, too, for our faculty and administrative leaders who have devoted time and other resources to train and master the effective use of the technology for education," Head of School Kay Drew said. "But additionally, I compliment our parents who believe in the correct application of technology tools for their CA children, and of course, the students who have embraced technology as the effective instrument for learning, research, collaboration, communication, storage, and accessing a world of information in an instant."
As an exemplary learning environment and center of innovation, leadership, and educational excellence, CA will host school visit events to provide educators an opportunity to visit classrooms and discover the possibilities that mobile learning provides as well as, experience how our school and program engages all learners.
Clarksville Academy is a PreK through twelfth grade college preparatory private school located in Clarksville, Tennessee. Students enrolled at Clarksville Academy experience learning in new innovative ways. CA's Apple 1:1 program matches 100% of its first through twelfth grade student body with a personal technology device.
PreK/Kindergarten may access iPad minis for student use in their classrooms. First through fifth grades is each provided an iPad mini for daily classroom use, sixth through eighth grade receives iPads, and ninth through twelfth grade uses MacBook Pros.
For more information on Clarksville Academy or its programs, please contact Sally Allen at or 931.647.6311.