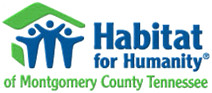 Clarksville, TN – Habitat for Humanity of Montgomery County Tennessee will dedicate its 83rd home to the Stephens Family in partnership with First Baptist Church of Clarksville this Sunday, December 22nd at 3:00pm.
The community celebration will be held at the newly built home located at 1327 Poplar Court located near Commerce Street and Reynolds Street. Please come out and help us celebrate.
"We're very excited to welcome the Stephens family as homeowners to Clarksville as well as dedicating our 83rd home," stated Shelby Logsdon, executive director. "First Baptist Church sponsored the home build providing financial and labor support through subcontractors and their church membership. Sunny Stephens and her 3 children invested over 500 hours of sweat equity to build their home with the final hours spent working side by side with the First Baptist church family."
Habitat hopes to build at least 5 homes in 2014. We need more sponsors to make this happen! Home sponsorships are an ideal way for organizations and business to invest in the Clarksville community, develop team esprit décor while building stable housing in partnership with Habitat families. Contact Habitat at 931.645.4222 for more information on how to become involved.
About Habitat for Humanity of Montgomery County, TN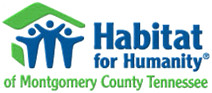 Since 1992, Habitat has partnered with over 83 qualified applicants who invest sweat equity into building simple, decent and affordable housing to achieve homeownership through a twenty-year, zero-interest mortgage. Habitat collaborates with faith, civic, and business organizations who envision neighborhood revitalization through new home construction. Program applications are accepted daily.
Contact the Affiliate office at 931.645.4222, on our website at www.habitatmctn.org or via Facebook/Habitat for Humanity of Montgomery County, TN.
About Habitat for Humanity International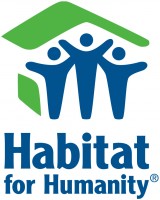 Habitat for Humanity International's vision is a world where everyone has a decent place to live. Anchored by the conviction that housing provides a critical foundation for breaking the cycle of poverty, Habitat has helped more than 4 million people construct, rehabilitate or preserve homes since 1976.
Habitat also advocates to improve access to decent and affordable shelter and supports a variety of funding models that enable families with limited resources to make needed improvements on their homes as their time and resources allow.
As a nonprofit Christian housing organization, Habitat works in more than 70 countries and welcomes people of all races, religions and nationalities to partner in its mission. To learn more, donate or volunteer visit www.habitat.org.