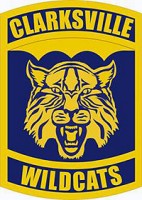 Clarksville, TN – Although the night didn't start like they wanted it to, the Clarksville High School wrestling team sent its 12 seniors out with a victory, January 16th at William Workman Gymnasium on Senior Night, as they defeated West Creek High School 36-28 after falling to Wilson Central High School 51-22 in the opener.
Wilson Central defeated West Creek in the night's other match, 72-6.
Clarksville High and West Creek both won seven weight classes in their head-to-head matchup, but where the Coyotes only came away with two pins in its victories over the Wildcats, CHS was able to collect five pins in its wins.
"We had some guys really step up," Clarksville High coach Tommy Badon said. "You score points depending on how you win and David Reid (220) — giving up 30 pounds – didn't get beat my much and that saved us points and Dalton (Halliday) (106) got a big victory for us and Dominic (James) (120) saves some points for us.
"West Creek is a tough team and I imagine we wrestle them again (January 21st) at the duels and it'll be a barn burner again."
Getting pins for Clarksville High versus West Creek were Nathaniel Alsbrooks (126), Tom Huddleston (152), Danny James (160), Kiel Russell (195) and Bruno Reagan (285).
Alan D'Alessandro (182) along with Halliday picked up decision wins for the Wildcats.
Earning pins for West Creek were Kevin Knier (113) and Christian Palaez (138), while Charlie Rocha (120), Jose Intriago (132), Robert Samborski (145), Nicholas Raines (170 and Jule Pace (220) earned decision wins.
In its opener against Wilson Central, Clarksville High dug a deep hole early-on by going down 19-0 before James picked up a 14-6 major decision at 160.
After their opening win to get on the board, CHS three of the next five matches from D'Alessandro (170), Russell (195) and Reagan (285) to get back to within nine points, 31-22, but dropped the final four weight classes to Wilson Central.
"We knew we had to get off to a good start and get some early points," Badon said. "We knew at the weight class we started at we would end where they would be strongest, but we weren't able to do that."
In the West Creek-Wilson Central match, it was all Wilson Central, as they won 13 of the 14 weight classes – including 10 by pin.
The only Coyote to pick up a win versus Wilson Central was Cyrus Whitted at 195.
Photo Gallery
Box Score
Clarksville High 36, West Creek 28
106-Dalton Halliday (C) def. Kenneth Gonzalez (WC), 10-6
113-Kevin Knier (WC) pins Ryan Croley (C), 0:28
120-Charlie Rocha (WC) def. Dominic James (C), 13-2
126-Nathaniel Alsbrooks (C) pins Ahmad Thomas (WC), 0:43
132-Jose Intriago (WC) def. Dakarri Wiggins (C), 10-8
138-Christian Palaez (WC) pins Travis Boner (C), 0:58
145-Robert Samborski (WC) def. Hunter Mabry (C), 11-6
152-Tom Huddleston (C) pins Diego Martinez (WC), 3:16
160-Danny James (C) pins Will Evans (WC), 3:09
170-Nicholas Raines (WC) def. Anthony Kim (C), 5-4
182-Alan D'Alessandro (C) def. Jacob Kuhns (WC), 8-4
195-Kiel Russell (C) pins Cody Page, 4:37
220-Jule Pace (WC) def. David Reid (C), 7-1
285-Bruno Reagan (C) pins Cory Wright (WC), 0:57
Wilson Central 51, Clarksville High 22
106-Nicholas King (WC) def. Dalton Halliday (C), 10-0
113-Caleb Berta (WC) by forfeit
120-Christian Cerrito (WC) pins Dominic James (C), 1:20
126-Lane Dickeson (WC) def. Nathaniel Alsbrooks (C), 12-1
132-Austin Richards (WC) pins Aleks Pulliam (C), 1:40
138-Eddie Small (WC) pins Travis Boner (C), 2:52
145-John-Michael Jenkinson (WC) def. Hunter Mabry (C), 7-3
152-Michael Bimms (WC) def. Tom Huddleston (C), 13-4
160-Danny James (C) def. Zach Linton (WC), 14-6
170- Alan D'Alessandro (C) pins Tyler Georgeadis (WC), 4:40
182-Perry Baltz (WC) pins Anthony Kim (C), 5:36
195-Kiel Russell (C) pins Marshall Suiter (WC), 0:43
220-John Kramer (WC) pins David Reid (C), 0:12
285-Bruno Reagan (C) pins Christian Frans (WC), 1:35
Wilson Central 72, West Creek 6
106-Nicholas King (WC) pins Justin Williams, 2:47
113-Caleb Berta (WC) defs. Kevin Knier, 6-4
120-Christian Cerrito (WC) Austin Woodard, 15-0
126-Lane Dickeson (WC) pins Ahmad Thomas, 3:09
132-Austin Richards (WC) pins Jose Intriago, 1:43
138-Eddie Small (WC) pins Jacob DePartee, 0:47
145-John-Michael Jenkinson (WC) def. Robert Samborski, 12-2
152-Michael Bimms (WC) pins Ty Bartlett, 1:34
160-Zach Linton (WC) pins Christian Palaez, 0:52
170-Tyler Georgeadis (WC) pins Mekhi Auchter, 1:48
182-Perry Baltz (WC) pins Jacob Kuhns, 1:52
195-Cyrus Whitted (West Creek) pins Marshall Suiter (WC), 1:48
220-John Kramer (WC) pins Jule Pace, 1:58
285-Christian Frans (WC) pins Rafat Ibrahim, 4:55