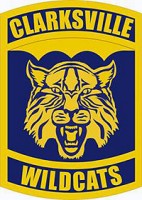 Clarksville, TN – When Tommy Badon took over as coach of the Clarksville High School wrestling program he knew of the history and success the program has had in the past with district championship after district championship.
Well, he and his Wildcats squad continued that tradition, January 21st at the William Workman Gymnasium, as CHS won its 18th straight district team dual championship with a 42-33 result in the finals versus West Creek High School.
"I'm happy that I was able to help continue the excellence and spirit of excellence that they've instilled over the years," Badon said. "There is some pressure there and on the boys too, and they knew it, but they stepped to that challenge – they were tough – and I'm really proud of them."
The championship match started in the 220-pound weight class and West Creek took and early 18-12 lead through the first five weight classes, with Jule Pace (220), Austin Woodward (113) and Kevin Knier (120) picking up pins.
But things started to turn at the 126-weight class with the Wildcats' Nathaniel Alsbrooks picking up a tight 4-2 decision over Charles Rocha that started a run of six straight wins over the Coyotes – including pins by Dakarri Wiggins (132), Hunter Mabry (145), Tom Huddleston (152) and Danny James (160).
Dalton Halliday (106) and defending state champion at 285 Bruno Reagan also picked up pin victories for the Wildcats.
"We were paper thin tonight with a couple of guys missing weight today," West Creek coach Zach Suggs said. "So we weren't prepared to wrestle mentally today.
"That was the biggest difference today. Last week when we wrestled Clarksville in the regular season we came out and wrestled them real close and it came down to one match, this week it wasn't quite as close."
Badon also added that he thought his group showed some improvement from last week's matchup versus the Coyotes.
"Dakarri (Wiggins) wrestled completely different than he did last week against them when he got beat," he said. "This time (Dakarri) really took it to him and Dalton (Halliday) at 103 is really coming along.
"My freshmen are wrestling tough, but my guys are just staying in there, being hard-nosed, tough, determined, disciplined and taking coaching well and it's playing off."
Both Clarksville High and West Creek opened the day with semifinal victories to advance to the finals, with the Coyotes edging Rossview High School, 40-33, and the Wildcats taking the measure of Northwest High School, 66-9.
Both Clarksville High and West Creek advance to the Region 7 tournament, January 23rd, at Wilson Central High School – where the Wildcats face Beech High School and the Coyotes face Wilson Central.
A win at the region tournament earns a trip to the TSSAA State Dual Meet at the AgExpo Park in Franklin, TN on January 31st-February 1st.
Photo Gallery
Finals
Clarksville High 42, West Creek 33
106-Dalton Halliday (C) pins Kenneth Gonzalez (WC), 1:29
113-Austin Woodward (WC) pins Ryan Croley (C), 4:28
120-Kevin Knier (WC) pins Dominic James (C), 1:37
126-Nathaniel Alsbrooks (C) def. Charlie Rocha (WC), 4-2
132-Dakarri Wiggins (C) pins Adrian Gonzalez (WC), 3:13
138-Will Baker (C) def. Christian Macias (WC), 12-6
145-Hunter Mabry (C) pins Diego Martinez (WC), 4:18
152-Tom Huddleston (C) pins Ty Bartlett (WC), 1:37
160-Danny James (C) pins Mekhi Auchter (WC), 3:48
170-Nicholas Raines (WC) wins by forfeit
182-Arturo Martinez (WC) def. Andrew Kim (C), 9-3
195-Jacob Kuhns (WC) wins by forfeit
220-Jule Pace (WC) pins David Reid (C), 0:22
285-Bruno Reagan (C) pins Cory Wright (WC), 0:50
Semifinals
Clarksville High 66, Northwest 9
106-Dalton Halliday (C) pins Shaun Dail (NW), 1:33
113-Anthony Arevalo (NW) wins by forfeit
120-Patrick Hand (C) def. Chris Kern (NW), 16-1
126-Nathaniel Alsbrooks (C) pins Isaiah Page (NW), 1:28
132-Dakarri Wiggins (C) def. Garrett Johnson (NW), 3-2
138-Aleks Pullman (C) def. Seth Williams (NW), 14-4
145-Travis Boner (C) pins Joseph Turville (NW), 1:50
152-Tom Huddleston (C) wins by forfeit
160-Julian Furr (NW) def. Bo Little (C), 5-3
170-William Carrion (C) pins Payton Ludiker (NW), 0:09
182-Anthony Kim (C) pins Tristan Ludiker (NW), 2:45
195-Keil Russell (C) pins Andrew Slight (NW), 4:00
220-David Reid (C) pins Craig Barbour (NW), 0:58
285-Bruno Reagan (C) pins Saigh Mullins (NW), 3:59
West Creek 40, Rossview 33
106-Kenneth Gonzalez (WC) def. Dominico Cerillo (R), 7-2
113-John Kost (R) pins Austin Woodward (WC), 3:41
120-Kevin Knier (WC) pins Jackson Thomsen (R), 2:17
126-Charlie Rocha (WC) def. Anthony Cole (R), 6-4
132-Adrian Gonzalez (R) def. Jose Intriago (WC), 7-0
138-Christopher Beatty (R) pins Christian Macias (WC), 5:12
145-Elijah Abdo (R) pins Ty Bartlett (WC), 2:43
152-Connor Gordon (R) wins by forfeit
160-Christopher Wilson (R) pins Mekhi Auchter (WC), 1:14
170-Nicholas Raines (WC) pins Lorenzo Smith (R), 5:27
182-Jacob Kuhns (WC) def. Garrett Ladd (R), 14-0
195-Cody Page (WC) pins Zach Thomas (R), 5:15
220-Cory Wright (WC) pins Glenndon Adams (R), 1:59
285-Jule Pace (WC) pins Harry Gaston (R), 1:43