Bloomington, IN – Day One at the Gladstein Invitational saw Austin Peay State University women's track and field team post a number of top finishes in a deep field at Harry Gladstein Fieldhouse, including in an event that has not been competed in during head coach Doug Molnar's tenure.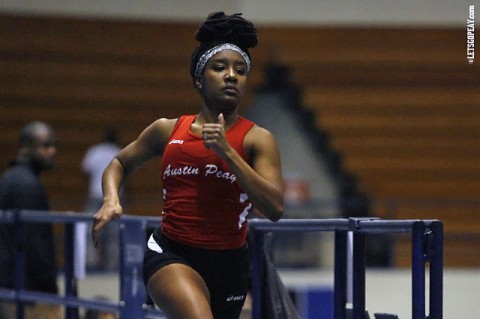 Freshman Amia Butler became the first athlete to compete in the indoor pentathlon under head coach Doug Molnar, placing sixth overall with 3,215 cumulative points in the five-discipline event.
Butler was strongest in the long jump, which she won with a 5.75m leap, and the 60m hurdles, where she was runner-up with an 8.93 mark that would have just missed qualifying her in the regular 60m hurdle event.
"Overall, I was pleased with our efforts today," Molnar said. "I thought we held our own and was pleased to see a lot of freshmen step up and lead us."
Freshman Terri Morris was a pleasant surprise in the 400m dash, placing third in the event with a personal-best 57.85 mark that bettered her previous top mark by nearly two seconds.
"I thought our sprinters were excellent today," Molnar said. "Even though our short sprinters didn't make the finals they ran really well against top-notch opponents."
Freshman Kaylnn Pitts continued her ascendance in the triple jump, turning in a fifth-place finish with a 12.05m leap. Pitts has improved her jump in each of the last three meets. Pitts' classmate Brianna Kelly also improved her personal-best in the high jump, tying for fifth with a 1.65m jump.
In a strong 60m hurdles field, freshman Myiah Johnson just missed qualifying for Saturday's final. The Memphis native's 9.00 mark was second-fastest in her Austin Peay career, but left her in 10th place, two spots out of the final.
Action continues at the Gladstein Invitational with an 11:00am, Saturday start time.