Tennessee Department of Transportation agrees to signs for Port Royal State Park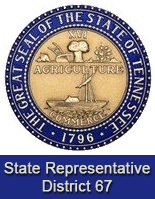 Nashville, TN – Tennessee State Representative Joe Pitts (D-Clarksville) is the sponsor of House Bill 2296 (Senate Bill 2402).
This bill will allow the County Clerk's office to remit monthly payments to the Department of Revenue for titles issued by these offices instead of daily remittances, cleared two hurdles this week and is scheduled to be heard on the House Floor on Monday, March 3rd.
"This piece of legislation was brought to me by Montgomery County Court Clerk Kellie Jackson after it was passed unanimously by the Tennessee County Clerk's Association," said Pitts. "This is common sense legislation that should save the county time and money for purchasing check stock as well as saving labor costs in producing and processing checks."
The state will go from processing 1900 checks a month down to 95.
Port Royal State Park Signage
The Montgomery County Delegation requested the Tennessee Department of Transportation (TDOT) to erect signage on Interstate 24 at or near Exit 11 on both the east and west bound sides for Port Royal State Park.
"The Montgomery County delegation requested the signs due to this significant cultural, historical, and recreational asset for Montgomery County and the state of Tennessee," Pitts said.
Transportation Commissioner John Schroer responded by stating "he was pleased to advise the delegation that they can provide the requested signs and have already contacted Senior Park Management with the Tennessee Department of Environment and Conservation (TDEC) to obtain their assistance in ensuring that we show the proper icons for the various park amenities."
This item was on the Montgomery County Commission's 2014 legislative agenda, presented in December 2013 by the Commission's Legislative Liaison Committee.
If you have questions about the above or other issues of concern, please call me at 615.741.2043, or email me at