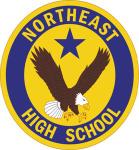 Clarksville, TN – Fielding errors and smart base running let the Northeast Eagles baseball team fly to an 11- 4 victory over the West Creek Coyotes Tuesday, April 1st.
West Creek starting pitcher, Peyton Burks, allowed seven of the Eagles total 8 hits in his four innings on the mound. He walked five and struck out three before retiring and was tagged with 9 runs.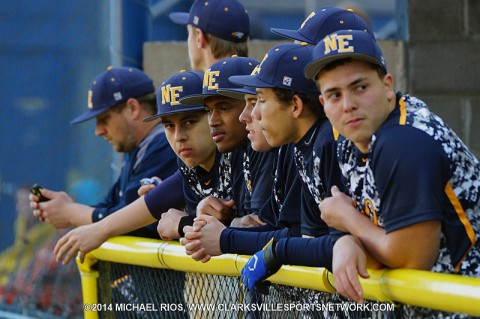 Once Eagles players got on base, they stole their way into scoring position almost at will. They scored four runs by stealing home.
Conversely, after a rough first inning, the three Eagles pitchers throwing in the game were supported by solid defense. The Coyotes were held to only four hits. All four of their runs were generated by senior Brenden Williams.
In the first inning, Williams smacked a 3-run homer 322 feet just inside the left field pole. Afterwards, the Coyotes remained scoreless until the fifth inning. Then, with one runner on, Williams found the gap between second and third to drive in the Coyotes final run.
Williams finished the game batting 2-for-3 with 4 RBI.
Northeast starting pitcher, Evan Frawley, was tagged with the Coyotes three runs in the first. He allowed three hits, and walked one with no strike outs.
Frawley was replaced by Matt Heggie in the second. Heggie held the Coyotes at bay for 3 1/3 innings. He struck out three will allowing no hits or runs. Clayton Caskey earned the win. He closed the game allowing just one run from one hit, walking two and striking out five.
The Eagles did not score in only one inning. After plating three runs in the first to tie the Coyotes, they took over the game by adding four in the second.
Luke Veltri scored the Eagles first runs with a line drive down the third base line for a standing 2 RBI double. Four of the next five runs were scored by runners stealing home. Ben Wilford stole home for two of the runs. Landon Dennis and Caskey both stole home for runs as well.
Veltri earned another RBI in the second and hit a double for his fourth RBI in the bottom of the fourth. He finished the game batting 2-for-4 with 4RBI.
Chris Huff was tagged for the Eagles last two runs. In 11/3 innings on the mound he allowed two runs from one hit and walked three. Williams closed the game allowing no hits or runs in the Eagles last at bat.
With two outs in the top of the seventh, the Coyotes appeared to be on the verge of a rally after Caskey walked two batters. However, the game ended when one of the runners was picked off at second.
Box Score
| | | | | | | | | | |
| --- | --- | --- | --- | --- | --- | --- | --- | --- | --- |
| | 1 | 2 | 3 | 4 | 5 | 6 | 7 | R | H |
| West Creek Coyotes | 3 | 0 | 0 | 0 | 1 | 0 | 0 | 4 | 4 |
| Northeast Eagles | 3 | 4 | 0 | 2 | 1 | 1 | 0 | 11 | 8 |