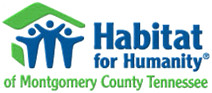 Clarksville, TN – The Habitat for Humanity of Montgomery County will be holding a 5K & 1 mile Family Fun Run at Beachaven Winery Saturday, April 19th, 2014 from 8:00am til 12:00pm.
There will be entertainment during the event: Bounce Houses, Face Painting, a Clown, a Tacky Recycling Costume Contest, an Easter Egg Hunt, musical entertainment, games and Water Wars.
The Lunch Rush food truck and Regenerate Juice Bar will be there to help fuel your appetite.
Musical entertainment featuring Lydia Walker, Jacob Finn, up and coming local singer Alexis Mihalinec, and Gospel Singer & 2014 Little Miss Black Clarksville Robyn Gordon.
Come join us for this fun filled day!
*$20 Donation for the first 50 who register in advance for the 5K race
*$15 Donation for the 1 Mile Family Walk/Run (family pets welcome)
You can register for the 5K/1 Mile Family Fun Run at here.
For more information go to our facebook page at https://www.facebook.com/hfhmctn
Sponsors
Beachaven Winery
Habitat for Humanity of Montgomery County Tennessee
Clarksville ReStore
Cans for Homes
C&L Recycling
B4U-bearsfouryou.com
U Jumpin Foulks
Chick-Fil-A on Wilma Rudolph
B.A. Wolfe PowerSports