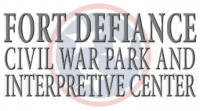 Clarksville, TN – The Fort Defiance Interpretive Center will display artifacts from the American Civil War, such as weapons, accoutrements, and personal items from the average soldier Saturday, April 12th from 10:00am to 5:00pm. The Fort Defiance Interpretive Center is located at 120 Duncan Street.
In addition to the artifact display, John Walsh will be on hand to answer any questions.
Visitors can explore the well preserved outer earthen works, powder magazine, and gun platforms.
As well as the permanent exhibit indoors, this includes the 18-minute film, "Crossroads of Change 1861-1865".
The display is free and open to the public.
For more information, please visit www.fortdefianceclarksville.com or call 931.472.3351.