Austin Peay Sports Information

Murray, KY – Austin Peay State University track and field won five events in its final tune-up before the Ohio Valley Conference Championships at the Battle of the Cumberland, with the Lady Govs winning the tri-meet against Murray State and Tennessee Tech.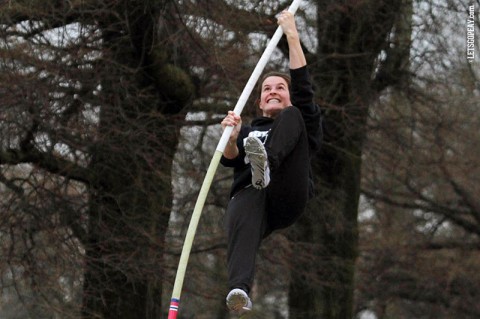 Austin Peay got a pair of winners from the field events that made big moves up the OVC best lists.
Freshman Briana Kelly's 1.70m high jump mark to take the OVC lead in the event and defeating Murray State's Katie Forshey, whom she was tied with in third place, at the latter's home meet.
Senior Molly Basch earned another personal-best in the pole vault with a 3.53m mark to take the top spot on Tuesday. She moved into sixth place in the conference in the event.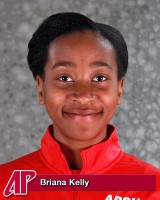 "We had a good meet with a couple of big personal-bests," said head coach Doug Molnar. "Kelly hit a big milestone. Basch is getting closer to that 12-foot mark."
The top four 400m dash spots – and the only four runners to break the one-minute mark on the day – went to Austin Peay athletes. Freshman Terri Morris crossed the line first at 56.01, followed by junior Jessica Gray (58.11), sophomore Kymmalett Ross (58.42) and freshman Tamira Wilson (59.95). In 400m hurdles, junior Natalie Olberding picked up the win (1:03.76), followed by freshman Kathryn Pickle (1:08.36).
In longer distances, senior Xiamar Hudson earned runner-up honors in the 1500m run with a 4:51.10 mark, narrowly edging teammate Kendra Kirksey (4:52.00).
Austin Peay swept the top three spots in the four-team 4x100m relay, with the quartet of juniors Erika Adams and Maikea Davis and sophomores Breigh Jones and Ross winning with a 46.99 run.
Four of the top five long jump finishes were earned by Lady Govs. Freshman Ashleigh Woods led Austin Peay's contingent with a second-place, 5.66m leap. She was followed by freshmen Amia Butler (5.63m, third), Chancis Jones (5.63m, fourth) and Kaylnn Pitts (5.54m, fifth).
"We got some good things accomplished today," Molnar said. "It sets us up well for the conference meet and hopefully, we can get some kids qualified for regionals as well."