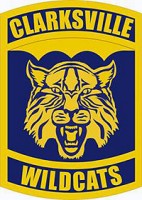 Clarksville, TN – Despite only one District 10-AAA loss so far this season, Clarksville High School's softball team went into this week needing to defeat both of its two closest challengers to wrap up the regular-season title.
Well, the Lady Wildcats (26-13, 12-1 District 10-AAA) are half way to that goal after their April 22nd 12-2 victory over Kenwood High School.
Clarksville High jumped on Kenwood (11-10, 8-3 District 10-AAA) starter Imani Largin in the first inning, as Heather Norris drew a walk to open the game and move to third base an out later on a single by Haley Bearden.
That would bring up Peyton Wilson, who drives in the pair with a single to give the Lady Wildcats a 2-0 lead.
Kenwood responded in the bottom of the inning with three straight hits against Norris, with Largin smacking a double down the right-field line to open the inning and score on a single by Katie Robards.
Precious Poindexter then singled for the Lady Knights, but Norris left runners stranded on second and third by striking out Britnie Harding and getting Breanna McClure to ground out to second base.
"I thought both teams came out and hit the ball well early," Clarksville High coach Brian Rush said. "You had two of the best pitchers in the district going against each other and both teams' emotions were high and their adrenalin was going."
But the emotions and adrenalin may have been too high on the Kenwood side, as the Lady Knights committed a three-base error on defense to open the top of the second inning, followed by three straight fielder's choses – two of which didn't result in outs – and Shelby Coakley driving in Tiana Gray with the third one.
That run would be the first of four runs scored in the second inning by Clarksville High without the benefit of a hit, with Katie Keen scoring on a fielder's choice, Coakley on a passed ball and Norris on a ground out, to make it 6-1.
"That just wasn't us out there tonight," Kenwood coach Ami Bush said. "We made to many mistakes on defense that we haven't made in district play all season."
The flood gates would open after that with Clarksville High scoring in all but the fourth inning, including a home run to center field by McKenzie Rose, but three more also aided by Lady Knights errors.
Rose finished with three hits for Clarksville High, with Bearden and Wilson recording two hits each. Wilson drove in three.
Kenwood's final run would come in the third inning on a single by Poindexter, who reached base all three times with two singles and a walk.
The victory by Clarksville High sets up an April 24th showdown at Northeast High School – the last team that has a chance to tie the Lady Wildcats for the regular-season district title, while Kenwood looks to rebound in a 5:30pm April 23rd home contest against Springfield High School.
Photo Gallery