APSU Sports Information

Hutchinson, KS – With a long practice round behind him, Austin Peay State University senior Marco Iten will begin his quest for an NCAA Golf Championship, 9:00am, Friday, when the tournament commences at the Prairie Dunes Country Club.

This is Iten's first NCAA Championship appearance but the second in succession for APSU–Dustin Korte earned such honor by being the highest finisher in the NCAA Tempe Regional from a team that didn't finish in the Top 5.

Iten was more than just the highest finisher at last weekend's NCAA Auburn Regional—he claimed medalist honors, winning the title by an impressive four strokes with an 8-under 208 while being the only golfer to shoot below par each day.

He carries that momentum into this weekend's tournament, to be played on the par-70, 6941-yard layout. The inland links-type course is considered one of the best in the country, a course where winds can change direction from shot-to-shot; one that houses deep bunkers on numerous holes and one that is adorned with high heather and multi-tiered greens. In addition, Nos. 12 and 14 also possess a pair of tee boxes, leaving the golfers guessing each day about the location.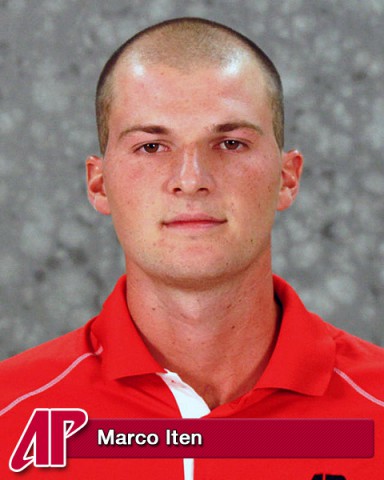 "It's a really nice course—I like the look of it," said Iten, who kept his focus during a nearly 7 ½-hour practice round that was interrupted by a lightning delay. "It reminds me a lot of a links course, which I like playing for the look of it. The greens are tough and mostly small with a several tiers to them."

Although he looks forward to playing the type course that is so prevalent across the ocean, Iten is aware patience and precision will be important in navigating the 18 holes. His calm, analytical approach was never more evident than at Auburn last week.

"I think coach (Kirk Kayden) and I have figured out pretty well," said Iten. "Obviously it will be key to keep it in the fairway. Anything but that will be trouble. The rough they have is going to tough to play out of—it is pretty thick. Of course there also is all the high stuff—if you hit it in there it is probably lost.

"Wherever I can I will pull three wood (off the tee) and wherever I need to do I will hit driver."

"Your tee shot is important on this course and Marco did a good job of understanding where you need to hit it off the tee during the practice round," APSU coach Kirk Kayden said. "That is going to be vitally important. Keeping your golf ball under control also will be important—again that is another major thing he has done so well this year—controlling his ball flight. And that could be a huge factor if the wind picks up here30 t.

"I talked to a couple of course members today and they told me it was a light wind day today so I don't think we are going to have another day like this."

In fact, the winds more than likely will make the course play longer as will higher grasses that border the sometimes narrow fairways.

"There are going to be a lot of holes out there where you going to take par and be happy," Kayden said, "A lot of it is going to depend on pin locations–you have two- and three-tiered greens out there. That is going to important. You second shot is going to be important, making sure you are on the correct side and correct tier. Marco has done a good job of that this year and figured it out pretty well today."

All 156 golfers—30 teams and the six individual qualifiers—will play 54 holes. On Monday, the top 40 individual golfers and any ties will advance for one additional day of stroke play to determine a 72-hole stroke-play individual champion. Iten believes his game is where it needs to be to challenge to be in that Top 40.

"I think I still am swinging well," he said. "If I can go through a good warm up tomorrow, keep the nerves in check and follow the game plan, I am right where I need to be."

On Friday, the top eight teams after 54 holes of play will be placed into a bracket with the No. 1 seed playing the No. 8 seed, the No. 2 seed playing the No. 7 seed, the No. 3 seed playing the No. 6 seed and the No. 4 seed playing the No. 5 seed in match play. The winners will advance into the afternoon semifinals with the finals slated for Monday.



Sections
Sports
Topics
APSU, APSU Athletics, APSU Golf, APSU Men's Golf, APSU Sports, Auburn GA, Dustin Korte, Governors, Govs, Hutchinson KS, Kirk Kayden, Marco Iten, NCAA Auburn Regional, NCAA Golf Championship, NCAA Tempe Regional, Ohio Valley Conference, OVC, Prairie Dunes Country Club