Austin Peay Sports Information

Jacksonville, FL – Freshman Austin Peay State University track and field athlete Kaylnn Pitts saw her first collegiate season come to an end with a 32nd-place finish in the triple jump, Saturday, at the NCAA East Preliminaries, hosted by North Florida.
Pitts was one of the tone-setters for the event, jumping second out of the first of four flights.
She went 11.85m (38' 10.50") in her first jump and 12.21m (40' 0.75") in her second attempt before finishing with a 12.35m (40' 6.75") mark that placed her fourth in her heat.
After entering the event ranked 45th nationally, Pitts moved up 13 spots – one of four triple jumpers, along with Samford's Nicole Charley, Clemson's Anastasia Terrell and Mississippi State's Ebony Brinker, to improve by 10 spots or more after entering the event ranked 40th or lower.
"I think she did a really good job," said head coach Doug Molnar. "You come in with a lot of pressure and it's good to get that experience in the first year. She moved up a few spots and to come in and do that in her freshman year is pretty good. If her consistency continues and her technical ability improves she'll be really good. Coach (James) Jenkins has done a great job with her and with all our jumpers. It's a tribute to the work that he and they have put in.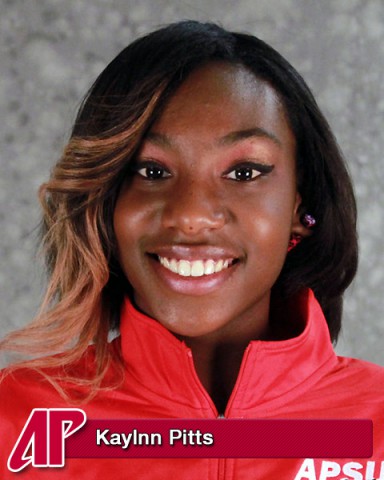 "We always preach that if you can get there and get the experience your first couple of years, your last two years you really have a shot at making something happen. Being around an event where everybody is a 40-foot or better jumper, next year she'll come back with a better idea of what to expect."
At the end of the first two flights, Pitts was tied for ninth with Tulane's Estefany Cruz. Overall, she finished sixth out of nine freshman triple jumpers in the event, ahead of Syracuse's Regine Hunter, Clemson's Iana Amsterdam and Kentucky's Sha'Keela Saunders.
Although her collegiate season has drawn to a close, Pitts' summer may have to be put off a little longer. Molnar is unsure yet whether she will compete in the US Junior National Championships in Eugene, Oregon, July 5th-6th. After Breigh Jones – who will be in Oregon June 11th-14th for the NCAA Championships after qualifying in the 400m dash Friday night – used top marks at the Junior National Championships last season to earn a spot on the United States squad for the Junior Pan American Games, Pitts would head to Oregon seeking qualification for the 2014 IAAF World Junior Championships, which will also be held in Eugene, July 22nd-27th.
"The really neat thing at the end of this meet was Breigh Jones telling Kaylnn what a good job she did," Molnar said. "Kaylnn said, 'I'll be there with you next year.' She's already looking ahead."