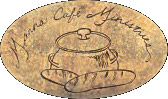 Clarksville, TN – Mark your calendars for the Color Me Cool Art Show and Ice Cream Festival—a groovy summer shindig with a hippie-dippy twist! Sponsored by Clarksville Fencing and Forefront Solutions, this Manna Café event will take place at 635 Frosty Morn Drive on Saturday, August 2nd from noon until 8:00pm.
Admission is free, and activities will include an art show featuring Ken Shipley and many other artists, including painters, sculptors, potters, high-quality crafters, and more; live music by local favorites; plenty of Purity ice cream; an ice cream eating competition; a hula hoop competition; a sidewalk chalk art contest; and games for the kids.
The main event will be a homemade ice cream competition. If you have a favorite ice cream recipe and want to show it off or see how it stacks up against your fellow Clarksvillains' recipes, join in the fun for a chance to win a year's supply of Purity ice cream and new electric ice cream maker.
Booths are still available for artists and high-quality crafters who would like to show and sell their work.
Log onto www.mannacafeministries.com/color-me-cool, call 931.933.0970, or email ColorMeCool@mannacafeministries.com to request an application for an indoor or outdoor booth; enter the ice cream competition; ask questions; volunteer to help; or find out how to become a stage or Kid Zone sponsor.
Find us on Facebook at www.facebook.com/ColorMeCool