Clarksville, TN – The City of Clarksville is celebrating our nation's independence this year with the seventh annual Independence Day Celebration on Thursday, July 3rd, 2014 at Liberty Park for food, fun and entertainment for the entire family.
The event is free and begins at 6:30pm. Seating is available throughout the park and the concerts will take place on the Great Lawn of the Wilma Rudolph Event Center.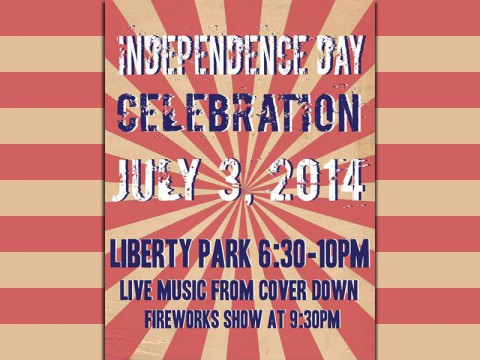 Staff Sergeant Scott Letourneau of the 160th Special Operations Aviation Regiment will begin the festivities with the singing of the National Anthem.
Local performers Eight O'Five Jive will provide live music throughout the evening, followed by Cover Down and fireworks for the Grand Finale!  In addition to musical entertainment, vendors will offer a variety of favorite foods, including kettle corn, hotdogs, funnel cakes, shaved ice, philly cheese steaks and much more.
In order to prepare for the event, Liberty Park will be closed at sunrise on Wednesday, July 3 for all activities except the Independence Day celebration and will reopen to the general public at sunrise on Thursday, July 4th.
There will be very limited parking inside the park on July 3rd.  Parking spaces will be available for vehicles with handicapped license plates or placards, vendors, performers and public safety personnel.  The remaining few spots will be open on a first come, first serve basis.
Guests are encouraged to park downtown and ride the Clarksville Transit System from the Transit Center at 200 Legion Street. CTS will provide free rides to and from the Transit Center  beginning at 4:00pm. Parking at downtown parking meters and in the parking garage at Commerce and Third Streets is free after 5:00pm.
Parking will also be available at the Josten's parking lot on Hwy 48-13 and will serve as an additional site for CTS rides to and from Liberty Park.  At the conclusion of the fireworks show, CTS buses will begin returning guests to these parking areas with the last bus departing from Liberty Park promptly at 11:00pm.
Buses will be given priority access on Hwy 48-13 after the event so that guests may exit the Park as quickly as possible.  Parking along the roadside on Hwy 48-13 is strictly prohibited.  Additional parking options are still being finalized and information will be provided as soon as all details are confirmed.
Boats with trailers will be allowed to access the boat ramp parking area until 8:00pm or until the parking area has been filled.
For safety reasons, no boats will be allowed to enter or exit the area between 8:00pm and 10:00pm.
We ask that all attendees abide by the event rules in Liberty Park:
No roaming solicitation.
No weapons.
No pets allowed during event.
No drugs or alcoholic beverages allowed.
No fighting or foul language allowed.
No personal fireworks.
No personal grills.
This year's event is presented by The City of Clarksville and sponsored by The Leaf-Chronicle, Clarksville Family Magazine and Clarksville Transit System.
For more details on the City of Clarksville's Independence Day Celebration, visit http://www.cityofclarksville.com/events or call the Clarksville Parks and Recreation Department at 931.645.7476.
Up to the minute parking information will be provided during the evening of July 3rd through the Facebook and Twitter accounts for the Parks and Recreation Department, Clarksville Transit and Mayor McMillan's pages.